The soundtrack to A Day and a Half music (En Dag Och en Halv), a 2023 movie
, tracklist, listen to all of the 3 full soundtrack songs, 2 trailer track. View all song names, who sings them, stream 3 additional tune playlists, scores, and credits used in the movie. Read 3 scene descriptions with timelines.
---
Song credits - additional film music - songs that are not included in the official soundtrack list, but are playing in the movie.
Listen to full soundtrack songs (where available)
---
1. Incy Wincy Spider – Cast
[01:03']
Louise sings this lullaby in the car to Cassandra to help her fall asleep.
---
2.

Milk and Honey – Jackson C. Frank
[01:16']
The convoy heads south, escorted by the police and the National Task Force.
---
3.

Blow Him Back Into My Arms (Wendin) – Moneybrother
[01:30']
The song plays in the final scene and continues as the credits roll.
---
Trailer Video
Watch the trailer
1.

A Day and a Half | Official Trailer
2.

A Day and a Half | Official Clip



Trailer songs (full tracks)


1.

Knuckle Duster - Moe Danger (Trailer 2)




Category: Action Movie Soundtracks, Drama Movie Soundtracks, Netflix, Thriller Movie Soundtracks

What to Watch this Week |

Top TV Series |

Top Films |

TV Series Schedule |

In Theaters Now
A Day and a Half  Film information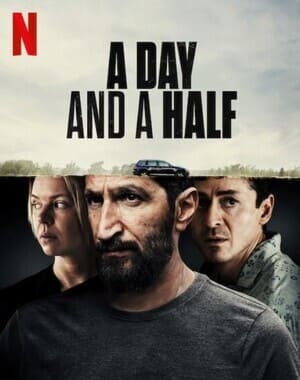 Movie Genre: Action, Drama, Thriller
Release date (wide): September 1, 2023
Runtime: 1h 34m
Production: Warner Bros. International Television Production Sverige
Distributor: Netflix
Director: Fares Fares
Stars: Fares Fares, Alexej Manvelov, Alma Pöysti




IMDB: A Day and a Half

Composers Archive
---