The soundtrack to A Haunting in Venice music, a 2023 movie
, tracklist, listen to all of the 17 full soundtrack songs, play 10 full OST music. View all song names, who sings them, stream 7 additional tune playlists, scores, and credits used in the movie. Read 9 scene descriptions with timelines.
---
Song credits - additional film music - songs that are not included in the official soundtrack list, but are playing in the movie.
Listen to full soundtrack songs (where available)
---
1.

When the Lights Go On Again – Vera Lynn
[00:01']
Scenes from Venice. After waking up, Poirot does his morning routine.
[00:19′]
After the chandelier falls, they all go upstairs for the spiritism session and find doctor Ferrier humming this song.
[01:38′]
Poirot resumes his activity as a detective. End credits song.
---
2.

In the Mood – Glenn Miller & His Orchestra
[00:05']
Miss Oliver tries to convince Poirot to work on a case. She presents it to him while they walk through Venice.
---
3. Giro Giro Tondo – Cast
[00:59']
After Desdemona tries to run away, they tie her and Nicholas up. As they are watching them, Poirot hears a child humming this song.
[01:06′]
The song is heard as Doctor Ferrier is recovering from his crisis.
[01:10′]
Poirot inspects the invitation Alice's fiancé received. He hears the song as he reads 'apple' between the lines.
---
4. Meet Me in St. Louis, Louis – Kerry Mills and Andrew Sterling
---
5. When the Saints Go Marching In – Traditional
---
6.

Battle Hymn of the Republic – Julia Ward Howe and William Steffe
---
7.

The Trolley Song – Ralph Blane and Hugh Martin
---


A Haunting in Venice official OST album tracklist, original motion picture score.
Original release date: 15 September 2023
Label: Hollywood Records
Original music composed by Hildur Gudnadottir
---
1.

Haunt
Starting song.
---
2.

Gondolas
---
3.

Alcoven
---
4.

No Music Without Her
---
5.

Seance
---
6.

Psychic Pain
---
7.

St. Louis
---
8.

Pipes
[01:03']
After hearing a loud sound, they all try to locate its source. Poirot finds a secret door.
---
9.

Confession
---
10.

Money in the Mattress
---
Listen to the full score songs playlist from A Haunting in Venice Soundtrack (2023) :



YouTube

Spotify
Trailer Video
Watch the trailer
1.

A Haunting In Venice (Teaser Trailer)
2.

A Haunting In Venice (Official Trailer)

Category: Crime Movie Soundtracks, Drama Movie Soundtracks, Horror Movie Soundtracks

What to Watch this Week |

Top TV Series |

Top Films |

TV Series Schedule |

In Theaters Now
A Haunting in Venice  Film information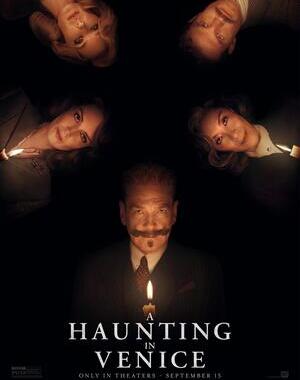 Movie Genre: Crime, Drama, Horror
Release date (wide): 15 September 2023
Runtime: 1 hour 43 minutes
Production: The Mark Gordon Company, Scott Free Productions, TSG Entertainment, Kinberg Genre, 20th Century Studios
Distributor: 20th Century Studios
Directors: Kenneth Branagh
Stars: Kenneth Branagh, Tina Fey, Jamie Dornan, Michelle Yeoh, Kyle Allen




IMDB: A Haunting in Venice

View more music by:

Composers Archive
---