The soundtrack to A Million Miles Away music, a 2023 Prime Video movie
, tracklist, listen to all of the 43 full soundtrack songs, play 23 full OST music & trailer tracks. View all song names, who sings them, stream 20 additional tune playlists, scores, and credits used in the movie. Read 23 scene descriptions with timelines.
---
Song credits - additional film music - songs that are not included in the official soundtrack list, but are playing in the movie.
Listen to full soundtrack songs (where available)
---
1.

96 Tears – The Mysterians
[00:04']
Beto enters the classroom. He sits at his desk, and Jose turns to him. He asks Beto in Spanish why he has not been to school, and Beto replies he had to work.
[00:05']
Jose wakes up, runs into the kitchen, and leaves the house with his father. A time-lapse shows people picking crops. Gazing upward, Jose asks his mother what the stars are for; she tells him he should ask the question in school.
[01:43']
In his room at the space center, Jose remains awake. Sunlight shines across his bed. A man knocks at the door and informs him they are ready for him. A wide view shows the launch pad. Technicians help Jose and his crew put on the orange flight suits in a lab.
---
2. Me Vas A Negar Tres Veces – Fredy Rodríguez Velázquez
[00:11']
Miss Young arrives at Jose's house. She tries to communicate with them in Spanish but then carries on in English, informing the parents she is worried about their children's education.
---
3.

El Hijo del Pueblo – Jose Alfredo Jimenez
[00:16']
Jose's father drives their family car on the highway. His wife glances back at the children. The vehicle drives out of view, and a flashy, custom-painted car appears. In the present day, now a young man, Jose drives the car.
[01:51']
Jose is the first migrant farmworker to have traveled to space. Footage shows the real shuttle returning to Earth and landing safely.
---
4.

Contrabando Y Traicion – Los Tigres del Norte
[00:17']
Jose drives his car through a parking lot. People watch him drive by. Clint watches Jose as he parks the car.
[01:11']
Adela's cousins help with the move. Driving the family minivan, Jose arrives at NASA Johnson Space Center.
[01:46']
Jose sings to himself on the shuttle. He smiles. The technicians close the shuttle door. Adela goes to the window, moves the blinds aside, and looks at the shuttle at the distant launch pad.
---
5.

El Corrido De Emiliano Carranza – Los Famosos del Norte
[00:21']
Jose walks with Beto at a farm. He tells Beto he works at Lawrence Livermore Labs, a federal research facility.
---
6. No Lo Puedo Creer – Mario Gastelum
[00:25']
His mother offers Jose a plate of food, but he tells her he does not want it. She straightens his hair and tells him his sister found a nice girl for him.
---
7.

True – Spandau Ballet
[00:28']
Jose fills out a NASA application at his desk. As his sister barges in, he flips the application over and hides it with his palms, but she notices it and asks him what the paper is. He tells her it is nothing.
---
8.

This Is Your Land – The Kingston Trio
[00:29']
At a used car dealership, Jose and Beto inspect an El Impala.
---
9.

When Your Heart Goes Crazy – Durwood Haddock
[00:30']
Adela tells Jose that he will be happy with the vehicle he just purchased because it has great mileage and is a great investment all the way around.
---
10.

Never Gonna Give You Up – Rick Astley
[00:33']
Jose drives a few laps in the parking lot. He bobs his head along the music as he parks.
---
11. Whip It – Devo
[00:38']
Jose looks at two documents and is shocked by the information they contain. He wants to speak with his boss, but he tells Jose he does not have time to speak.
---
12.

Hoy Me He Vuelto A Equivocar – Wilkins
[00:41']
Adela's mother pushes Adela close to Jose and asks him to tell her everything he needs to because her husband will arrive home soon.
---
13.

Querida – Juan Gabriel
[00:45']
Jose asks Adela what a nerd must do to be alone one day with her. She smiles and wants to reply, but her father arrives home, and Jose moves down the couch. The scene shifts to their wedding day.
---
14.

Smile Now, Cry Later – Sunny & The Sunliners
[00:52']
Adela asks Jose where the diapers are. Jose shuts his eyes briefly. Later, he holds a package of diapers. Beto tells him they put the diapers by the beer because it's the depressed dads who buy them in the middle of the night.
---
15. Put Ya Hands Up – Julian Napolitano, Emily Taylor, Jorden Milnes
[01:00']
At a large swimming pool, where the elderly perform water aerobics, Jose practices diving at the end of the pool. In a small plane, Jose sits with a flight instructor. Jose adjusts the dials in the cockpit and flies the plane.
---
16.

La Cama de Piedra – Cuco Sanchez
[01:07']
Jose approaches Sturckow and hands him his application. He corrects Sturckow, telling him it would be his 12th attempt to apply for a job at NASA and not the 11th. Sturckow takes the application.
---
17.

Mas Alla del Sol – Joan Sebastian
[01:26']
Jose jogs through a parking lot at night. He passes a white building with covered windows and a sign that reads "For lease." He walks back to the building and gazes at it.
---
18. The Bigger the Boom – Shawn O. Thomas & John B. Miller
---
19. Dale, Dale, Dale – Traditional
---
20.

Deja Que Salga La Luna – Jose Alfredo Jimenez
---


A Million Miles Away official OST album tracklist, original motion picture score.
Original release date: 15 September 2023
Label: Amazon Content Services, LLC
Original music composed by Mexican Institute of Sound
---
1.

California Dreamin' – Calexico feat. Brian Lopez
Opening song / An overhead view lowers to the cornfield. Lying on his back among the green stalks, Jose peels back corn husk.
---
2.

Yo Tengo Una Receta
---
3.

What Are Stars For?
---
4.

Ignition
---
5.

Force of Nature
---
6.

Theory
---
7.

Comida Michoacana
---
8.

How Big Is It?
---
9.

How to Become
---
10.

I'm Coming Baby
---
11.

Baby
---
12.

Goodbye Beto
---
13.

First Training
---
14.

Is It Worth It?
---
15.

Hello Dunker
---
16.

Break Apart
---
17.

Against Our Expectations
---
18.

Beso
---
19.

Mrs. Young
---
20.

Family Room
---
21.

Phone Call
---
22.

Suite
---
23.

Launch
---
Listen to the full score songs playlist from A Million Miles Away Soundtrack (2023) :



YouTube

Spotify
Trailer Video
Watch the trailer
1.

A Million Miles Away (Official Trailer)

Category: Biography Movie Soundtracks, Drama Movie Soundtracks, Sci-Fi Movie Soundtracks

What to Watch this Week |

Top TV Series |

Top Films |

TV Series Schedule |

In Theaters Now
A Million Miles Away  Film information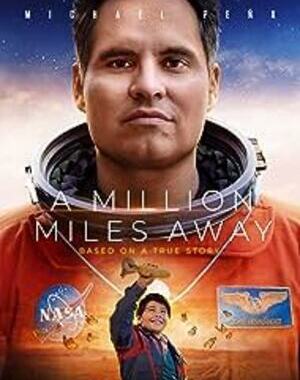 Movie Genre: Sci-fi, Drama, Biography
Release date (wide): 15 September 2023
Runtime: 2 hours 1 minute
Production: Amazon Studios, Select Films, Redrum
Distributor: Amazon Studios
Directors: Alejandra Márquez Abella
Stars: Michael Peña, Rosa Salazar, Bobby Soto, Sarayu Blue, Verónica Falcón




IMDB: A Million Miles Away

View more music by:

Composers Archive
---