The soundtrack to Burning Betrayal music, a 2023 Netflix movie (O Lado Bom de Ser Traída)
, tracklist, listen to all of the 10 full soundtrack songs, trailer tracks. View all song names, who sings them, stream 10 additional tune playlists, scores, and credits used in the movie. Read 11 scene descriptions with timelines.
---
Song credits - additional film music - songs that are not included in the official soundtrack list, but are playing in the movie.
Listen to full soundtrack songs (where available)
---
1.

No Ponto (Remix) – Iza
[00:01']
Opening credits song.
---
2.

Hot Summer – Cecile рerfetti, Jean-Francois Berger
[00:16']
Babi exits the bathroom and tells her friends that there's a place she wants to go. They all head to Caio's workplace.
---
3.

A Tua Voz – Gloria Groove
[00:21']
In the evening, Babi takes a shower and then spends most of her time crying over Caio's infidelity.
---
4.

Dona De Mim – Iza
[00:34']
Babi calls Camille and asks for her bike back.
[00:35']
Babi joins a bikers club and rides to the seaside with them.
---
5.

Brinca Com A… – Carol Biazin
[00:36']
Babi jumps into the swimming pool. After that, one of the guys offers her a drink.
---
6.

Matching Tattoo – Giulia Be
[00:41']
In the evening, Alexandre invites Babi to grab something to eat. She refuses, as she would rather take a walk on the beach.
---
7.

Envolver (Remix) – Anitta
[00:43']
Marco and Babi get intimate on the beach and at the hotel.
---
8. Just Can't Get Enough Of You – Jacqueline Halm Hopkins
[00:54']
Babi puts on a revealing outfit and prepares for the date with Marco.
---
9. Free To Be Lost – Victoria Kiu
[01:00']
After leaving a voice message to Paty, letting her know she is well, Babi gets intimate with Marco.
---
10.

Take Over – Six Black Skulls
[01:30']
Babi and Marco ride the motorcycle on the beach. This song plays throughout the following montage.
---
Trailer Video
Watch the trailer
1.

Burning Betrayal - Trailer




Trailer songs (full tracks)


1.

Envolver - Anitta



Category: Drama Movie Soundtracks, Mystery Movie Soundtracks, Netflix, Romance Movie Soundtracks

What to Watch this Week |

Top TV Series |

Top Films |

TV Series Schedule |

In Theaters Now
Burning Betrayal Film information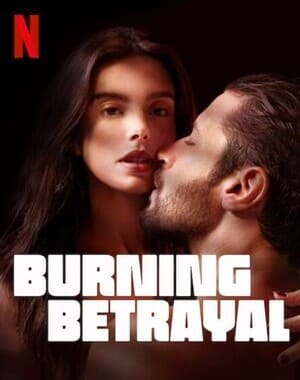 Movie Genre: Drama, Mystery, Romance
Release date (wide): 25 October 2023
Runtime: 1h 38m
Production: Glaz Entertainment
Distributor: Netflix
Director: Diego Freitas
Actors: Giovanna Lancellotti, Bruno Montaleone, Leandro Lima




IMDB: Burning Betrayal

Composers Archive
---