The soundtrack to Corner Office music, a 2023 movie
, tracklist, listen to all of the 2 full soundtrack songs, trailer tracks. View all song names, who sings them, stream 2 additional tune playlists, scores, and credits used in the movie. Read 3 scene descriptions with timelines.
---
Song credits - additional film music - songs that are not included in the official soundtrack list, but are playing in the movie.
Listen to full soundtrack songs (where available)
---
1.

Here Comes Santa Claus (Remastered) – Bing Crosby
[1:08']
Orson enters his car to leave after his shift when a Christmas song starts playing on the stereo.
---
2.

No Surprises – Radiohead
[1:37']
Orson manages to get inside the room and sit at the desk one last time.
[1:38']
End credits song.
---
Trailer Video
Watch the trailer

Corner Office Trailer

Category: Comedy Movie Soundtracks

What to Watch this Week |

Top TV Series |

Top Films |

TV Series Schedule |

In Theaters Now
Corner Office  Film information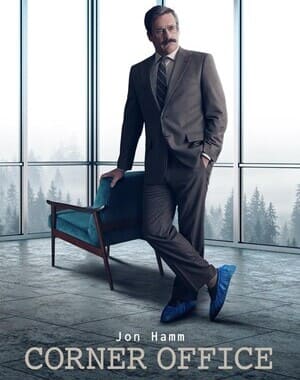 Movie Genre: Comedy
Release date (wide): 4 August 2023
Runtime: 1h 41m
Production: Tilt 9 Entertainment, Anonymous Content, Goldenlight Films
Distributor: EO Media Distribution, Phoenicia Pictures
Directors: Joachim Back
Stars: Jon Hamm, Danny Pudi, Sarah Gadon




IMDB: Corner Office

Composers Archive
---