The soundtrack to Ehrengard: The Art of Seduction music, a 2023 Netflix movie
, tracklist, listen to all of the 7 full soundtrack songs. View all song names, who sings them, stream 7 additional tune playlists, scores, and credits used in the movie. Read 9 scene descriptions with timelines.
---
Song credits - additional film music - songs that are not included in the official soundtrack list, but are playing in the movie.
Listen to full soundtrack songs (where available)
---
1. Franz Schubert Piano in A major, D. 667 "The Trout": 4th movement: Andantino – Amati Chamber Ensemble Quintet
[00:04']
Cazotte walks through town and arrives home. He wants to enter his place quietly, but the landlady sees him and asks him to pay the rent.
[00:05']
Cazotte arrives at the palace at the Duchess' invitation. She hires him to observe her son.
[00:21']
Cazotte reports to the Great Duchess that her son shows interest in Princes Ludmila. She is delighted to hear all the details Cazotte gives her.
[00:36']
The Duchess tells Cazotte that Professor Putziger will remain at the castle to constantly check the Princess' health. She then tells him about riding master Podolski and Chief Lady-in-Waiting Countess Poggendorf.
[00:50']
The Duchess arrives at the castle for the baby's birth. She is pleased to hold her grandson and secure the throne line.
[01:29']
End credits.
---
2.

Joseph Haydn Concerto for Organ and Orchestra C Major, Hob.XVIII: 1 Moderato – Anton Holzapfel, Dolce Risonanza Florian Wieninger
[00:23']
Lothar and Princess Ludmila get married.
---
3.

Ludwig van Beethoven Symphony No.7 in A Major (Allegretto) – Jonathan Scott
[01:23']
Kurt challenges Cazotte to a duel. Before turning to face Kurt, he discharges his gun accidentally and shoots himself in the foot. Ehrengard advises Kurt not to shoot.
---
4.

Le nozze di Figaro – Duettino Sull'aria – Sopranos Lada Bockova and Sona Godarska (Wolfgang Amadeus Mozart)
[01:27']
At the opera, Cazotte watches "The Marriage of Figaro". He sees a young woman smiling at him through his theater binoculars. He waves at her softly but soon realizes the young woman and her friends laugh at him.
---
5. Franz Schubert Quintet For Piano in A Major, "Die Forelle" – Anna Zelianodjevo, Magda Stevenson, Therese Astrand, Arne Rasmussen, Claus Kilpatrick
---
6. W.A. Mozart Piano Concert in D Minor – K.466 2nd movement. Romance – Claus Kilpatrick
---
7. Ludwig van Beethoven' Symphony No.7 in A Major. 2 Allegretto – Cavendish Classical
---
Trailer Video
Watch the trailer
1.

Ehrengard: The Art of Seduction | Official Trailer

Category: Comedy Movie Soundtracks, Drama Movie Soundtracks, Netflix, Romance Movie Soundtracks

What to Watch this Week |

Top TV Series |

Top Films |

TV Series Schedule |

In Theaters Now
Ehrengard: The Art of Seduction  Film information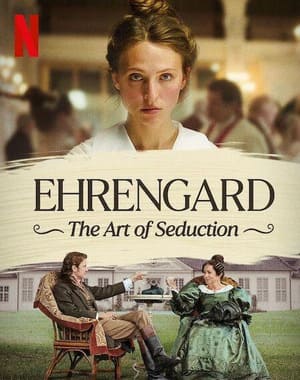 Movie Genre: Comedy, Drama, Romance
Release date (wide): 14 September 2023
Runtime: 1h 34m
Production: JJ Film, Netflix, SF Studios Production
Distributor: Netflix
Director: Bille August
Actors: Sidse Babett Knudsen, Mikkel Boe Følsgaard, Emilie Kroyer Koppel




IMDB: Ehrengard: The Art of Seduction

Composers Archive
---