The soundtrack to Eldorado: Everything The Nazis Hate music, (Eldorado – Alles, was die Nazis hassen) a 2023 Netflix movie
, tracklist, listen to all of the 4 full soundtrack songs, trailer tracks. View all song names, who sings them, stream 4 additional tune playlists, scores, and credits used in the movie. Read 3 scene descriptions with timelines.
---
Song credits - additional film music - songs that are not included in the official soundtrack list, but are playing in the movie.
Listen to full soundtrack songs (where available)
---
1.

Raus Mit Den Maennern – Claire Waldoff
[0:07']
Claire is performing at the Eldorado.
---
2.

You Do Something To Me – Marlene Dietrich
[0:27']
Lisa and Gottfried start experiencing their sexuality with another couple.
---
3.

Bones And Barrels – Gregg Bissonette & Matt Bissonette
[1:28']
End credits song.
---
4.

Tango, Du Bist Doch Meine Lieblingsmusik – Georges Ernest Boulanger
Trailer Video
Watch the trailer

Eldorado – Alles, was die Nazis hassen Trailer

Eldorado: Everything The Nazis Hate  Film information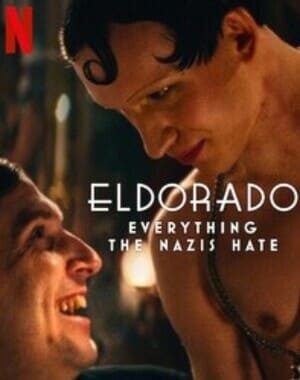 Movie Genre: Documentary, Drama, History
Release date (wide): 28 June 2023
Runtime: 1h 32m
Production: Film Base Berlin, Netflix Studios, The Thursday Company
Distributor: Netflix
Directors: Benjamin Cantu, Matt Lambert
Stars: Eren Güvercin, Eli Otto Kappo, Antonio Lallo




Composers Archive
---