The soundtrack to Fourth Down and Love music, a 2023 movie
, tracklist, listen to all of the 5 full soundtrack songs. View all song names, who sings them, stream 5 additional tune playlists, scores, and credits used in the movie. Read 5 scene descriptions with timelines.
---
Song credits - additional film music - songs that are not included in the official soundtrack list, but are playing in the movie.
Listen to full soundtrack songs (where available)
---
1.

Kernkraft 400 – Zombie Nation
[00:01']
Opening credits song. The players are getting ready for the game.
---
2.

Oh My My – Summer Kennedy
[00:12']
Kiera arrives late to football practice. She notices another team practicing on the other side of the field and asks the coach about it.
---
3.

I've Come Back to Love (feat. J.A. Rettenbacher) – Niall Kelly
[01:06']
Erin and Mike arrive at the bar. Gertie and Gus welcome them, and then she tells Erin not to break Mike's heart.
---
4. Hold Me Tight – Jimi Ashmore, James Oxborrow & John Etkin-Bell
[01:07']
The moment this song starts playing, Gertie and Gus hit the dancefloor. Mike invites Erin to dance with him.
---
5.

Shake, Shake, Shake – Juliet Roberts
[01:18']
Keira gets some encouragement from Mike before the game. The Whalers win the match.
---
Trailer Video
Watch the trailer
1.

Fourth Down and Love - Preview

Category: Hallmark Channel, Romance Movie Soundtracks

What to Watch this Week |

Top TV Series |

Top Films |

TV Series Schedule |

In Theaters Now
Fourth Down and Love  Film information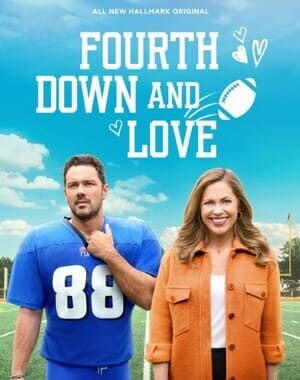 Movie Genre: Romance
Release date (wide): 9 September 2023
Runtime: 1h 30m
Production: Basset Hound Distribution, Timeless Pictures
Distributor: Hallmark Channel
Director: Allan Harmon
Actors: Pascale Hutton, Ryan Paevey, Steve Bacic




IMDB: Fourth Down and Love

Composers Archive
---