The soundtrack to Friday Night Plan music, a 2023 Netflix movie
, tracklist, listen to all of the 9 full soundtrack songs, 2 trailer tracks. View all song names, who sings them, stream 9 additional tune playlists, scores, and credits used in the movie. Read 11 scene descriptions with timelines.
---
Song credits - additional film music - songs that are not included in the official soundtrack list, but are playing in the movie.
Listen to full soundtrack songs (where available)
---
1.

Bahaane – Rahul Pais, Dhruv Visvanath & Siddhant Kaushal
[0:01']
Sid wakes up and prepares for the day.
[1:19']
Sid and Adi perform this song at the party.
---
2.

Pandora Ka Dabba – Piyush Kapoor
[0:44']
After asking Sid to drive, the group gets in the car and throws eggs at the others on the street.
[1:45']
Second end credits song.
---
3.

Fire in the Street – Madboy/Mink
[0:53']
Sid informs Adi that the car has been towed. Adi convinces him that the party is incredible and everything will be okay.
---
4.

Socha Na Tha – Zaeden
[1:13']
Sid dances at the party with his crush.
---
5.

Ven Pa' ca – Cielobrujo
[1:14']
Sid and Nitya chat on the balcony while watching Adi dance.
---
6.

KEEP IT GROOVIN' – Tony Lee Stafford Jr & Michael Dennis Smith & Nineoneone
[1:15']
Adi asks one of the guys at the party to let him drink beer. He won't let him without Sid's permission.
---
7.

Get It Kickin' – Raphael Lake
[1:25']
After conversing with Nat, Sid returns to the party and talks to his brother. They hug and apologize to each other.
---
8.

ON THE ONE – Daniel Mark Farrant, Nicholas Patrick Kingsley, James Alexander Knight
[1:29']
Sid approaches Nitya and tells her something he has hidden from everyone. She agrees to go to prom with him.
---
9.

Mazey Mein – When Chai Met Toast
[1:40']
Sid and Adi return the car to their mother before she discovers what happened. First end credits song.
---
Trailer Video
Watch the trailer
1.

Friday Night Plan Official Trailer




Trailer songs (full tracks)


1.

Pandora Ka Dabba - Piyush Kapoor & Skrat

2.

Mazey Mein - When Chai Met Toast




Category: Comedy Movie Soundtracks, Drama Movie Soundtracks, Netflix

What to Watch this Week |

Top TV Series |

Top Films |

TV Series Schedule |

In Theaters Now
Friday Night Plan Film information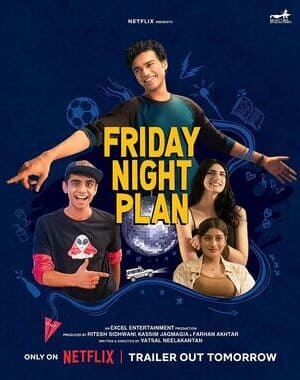 Movie Genre: Comedy, Drama
Release date (wide): 1 September 2023
Runtime: 1h 48m
Production: Excel Entertainment
Distributor: Netflix
Director: Vatsal Neelakantan
Actors: Aadhya Anand, Ria Chaudhary, Juhi Chawla




IMDB: Friday Night Plan

Composers Archive
---