The soundtrack to Gray Matter music, a 2023 HBO Max movie
, tracklist, listen to all of the 5 full soundtrack songs. View all song names, who sings them, stream 5 additional tune playlists, scores, and credits used in the movie. Read 7 scene descriptions with timelines.
---
Song credits - additional film music - songs that are not included in the official soundtrack list, but are playing in the movie.
Listen to full soundtrack songs (where available)
---
1.

What's It To You – Steve Rice Combo
[0:04']
(15 years later) Jazzy music plays softly in the background when Aurora and Ayla are having lunch together and they use their superhuman abilities.
[1:03']
Aurora awakens on the couch, dressed in a purple gown, and her mother prepares dinner.
---
2.Away – Shores
[0:19']
Ayla enters her daughter's bedroom and hands her a music album.
---
3.

The Lifestyle – Jaray
[0:21']
Aurora sneaks out of the house at night and goes to meet Isaiah and his friends.
---
4.

Cut Loose – Alibi Music
[0:24']
Aurora suddenly starts feeling unwell and hears Isaiah's friends' thoughts in her head.
[0:25']
Isaiah holds Aurora's hand to make her feel better, but she accidentally kills him.
---
5.

I'll Stop When – 5 Alarm
[1:23']
Ending credits song.
Trailer Video
Watch the trailer
1.

Gray Matter Official Trailer Max

Gray Matter Film information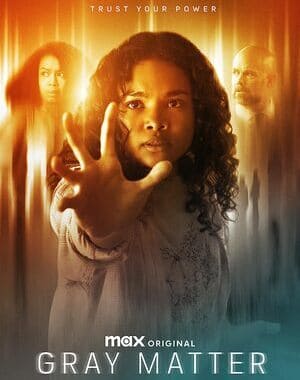 Movie Genre: Drama, Sci-Fi, Thriller
Release date (wide): 13 July 2023
Runtime: 1h 26m
Production: 3 Arts Entertainment, Catchlight Studios, Hoorae
Distributor: HBO Max, Max
Director: Meko Winbush
Actors: Mia Isaac, Jessica Frances Dukes, Andrew Liner




Composers Archive
---