The soundtrack to Murder At Yellowstone City music, a 2022 movie
, tracklist, listen to all of the 5 full soundtrack songs, play full OST music & trailer tracks. View all song names, who sings them, stream 5 additional tune playlists, scores, and credits used in the movie. Read 4 scene descriptions with timelines.
---
Song credits - additional film music - songs that are not included in the official soundtrack list, but are playing in the movie.
Listen to full soundtrack songs (where available)
---
1. Stand by Me (Charles Albert Tindley) – Cast
[0:05′]
Everyone sings this song at the church right before the Sheriff arrives.
---
2. My Darling Clementine – Zach McGowan (Cast)
[0:19′]
Robert Dunnigan sings this song while he rides the horse in the evening, when suddenly someone shoots at him and kills him and his horse.
---
3. La Llorona – Aimee Garcia (Cast)
[0:43′]
Isabel sings this song at the salon while the others are playing cards; later, Emma Dunnigan arrives and everyone stares at her.
---
4.

Sin – Lia Marie Johnson
Second end credits song
---
5. Alamo Blood – Joe Nichols
Trailer Video

Watch the trailer for this film
Category: Western Movie Soundtracks

What to Watch this Week |

Top TV Series |

Top Films |

TV Series Schedule |

In Theaters Now
Murder At Yellowstone City  Film information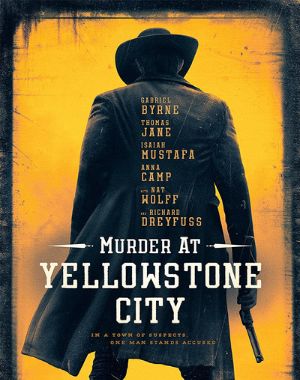 Movie Genre: Western
Release date (wide): 24 June 2022
Runtime: 2h 7m
Production: Yellow Brick Films, f8 Films, SkyWolf Media, Renegade Entertainment, Brigade Media Capital
Distributors: RLJE Films, ILY FILMS
Director: Richard Gray
Stars: Isaiah Mustafa, Zach McGowan, Thomas Jane




IMDB: Murder At Yellowstone City

Composers Archive
---