The soundtrack to My Animal music, a 2023 movie
, tracklist, listen to all of the 4 full soundtrack songs & trailer tracks. View all song names, who sings them, stream 4 additional tune playlists, scores, and credits used in the movie. Read 4 scene descriptions with timelines.
---
Song credits - additional film music - songs that are not included in the official soundtrack list, but are playing in the movie.
Listen to full soundtrack songs (where available)
---
1. Miracle Moment – Dave Antrell
[00:08']
Heather goes to the store to buy her mother a pack of cigarettes. She sees Jonny stealing a couple of beer cans.
---
2.

Violent Majority – SPY
[00:34']
While Heather and Jonny chat outside, Rick shows up and tells Jonny to get in the truck with him. The song plays over the car radio.
---
3.

Heartbeat – Nuovo Testamento
[00:46']
Heather admires Jonny while dancing on ice with her partner.
---
4.

Hands All over Me – Tamaryn
[00:58']
Heather and Jonny enter a pub where they have drinks and dance together.
---
My Animal official OST album tracklist, original motion picture score.
Original music composed by Augustus Muller
---
Not yet released.
---
Trailer Video
Watch the trailer
1.

My Animal | Official Trailer | Paramount Movies
2.

My Animal Trailer #1 (2023)

Category: Fantasy Movie Soundtracks, Horror Movie Soundtracks, Paramount+, Romance Movie Soundtracks

What to Watch this Week |

Top TV Series |

Top Films |

TV Series Schedule |

In Theaters Now
My Animal  Film information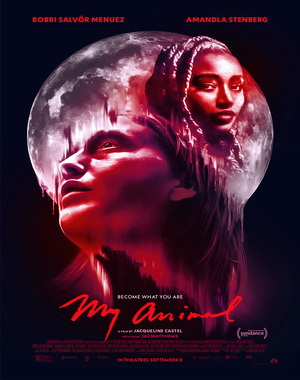 Movie Genre: Horror, Romance, Fantasy
Release date (wide): 15 September 2023
Runtime: 1h 40m
Production: Band With Pictures, Good Movies
Distributor: Paramount Global Content Distribution, Photon Films and Media
Director: Jacqueline Castel
Actors: Bobbi Salvör Menuez, Amandla Stenberg, Heidi von Palleske



IMDB: My Animal

View more music by:

Composers Archive
---