The soundtrack to Never Too Late to Celebrate music, a 2023 Hallmark Channel movie
, tracklist, listen to all of the 12 full soundtrack songs. View all song names, who sings them, stream 12 additional tune playlists, scores, and credits used in the movie. Read 14 scene descriptions with timelines.
---
Song credits - additional film music - songs that are not included in the official soundtrack list, but are playing in the movie.
Listen to full soundtrack songs (where available)
---
1. Cinco Patitos – Cast
[00:01']
Camila watches Javi sing this song to the children.
---
2.

Día De Fiesta – Marc Durst & Patrick Maarek
[00:19']
Camila arrives at the party and meets Javi.
---
3.

A Lo Caliche (feat. Pana Black) – Sr Ortegon
[00:19']
Javi approaches Camila and compliments her look.
---
4. Angel – Carlos PenaVega
[00:24']
At the party, Javi performs during the father-daughter dance.
[00:55']
Camila has dinner with Javi's family.
---
5.

Que Buena Esta – Havana Son
[00:28']
Javi invites Camila to dance with him even though she feels uncomfortable.
---
6.

Se Fue – Sr Ortegon & Stan Galouo
[00:34']
Some couples are dancing during a salsa class.
---
7.

Salsa en la Calle (Underscore) – Pana Black, Norbert Denis Galouo & Jose Miguel Ortegon Tovar
[00:35']
Camila and her mother attend a salsa class.
---
8.

Campana (feat. Yasniel Ciscal & Pana Black) – Sr Ortegon
[00:40']
Camila starts dancing in front of Javi while a band performs live on the street.
---
9.

Romantica Noche – Yvo Abadi, Miguel Saboga & Manuel Dante
[00:41']
In the evening, Javi takes Camila to his brother's restaurant.
---
10. La Botella – Samuel Rex Ogilvie Brown, Wayne David Evans, Huw Teilo Jones, Richard Edward Kensington & Richard James Charles Thomas Martinez
[00:51']
Sherri dances with Rafael. Before she leaves, he invites her to his advanced students' recital.
---
11. Eres Mia – Carlos PenaVega
[01:13']
Camila dances with her mother while Javi performs this song.
[01:22']
The song repeats in the final scene when Javi gives Camila a gift for her birthday and they kiss.
---
12.

Pensando en Ti (feat. Pana Black) – Sr Ortegon
[01:14']
After her party, Camila gives a speech thanking everyone who attended.
---
Trailer Video
Watch the trailer

Never Too Late to Celebrate - Preview

Category: Comedy Movie Soundtracks, FuboTV, Hallmark Channel, Romance Movie Soundtracks

What to Watch this Week |

Top TV Series |

Top Films |

TV Series Schedule |

In Theaters Now
Never Too Late to Celebrate  Film information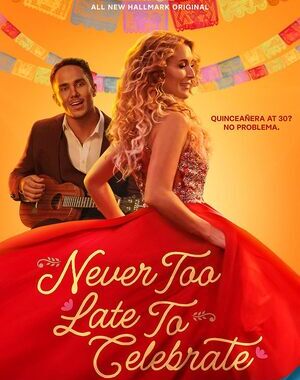 Movie Genre: Romance, Comedy
Release date (wide): 19 August 2023
Runtime: 1h 30m
Production: Muse Entertainment Enterprises
Distributor: Hallmark Channel
Director: Felipe Rodriguez
Stars: Alexa PenaVega, Carlos PenaVega, Bonnie Anderson




IMDB: Never Too Late to Celebrate

Composers Archive
---