The soundtrack to Slapface, a 2022 movie music
, tracklist, listen to all of the 21 full soundtrack songs, play full 15 OST music & trailer tracks. View all song names, who sings them, stream 6 additional tune playlists, scores, and credits used in the movie. Read 7 scene descriptions with timelines.
---
Song credits - additional film music - songs that are not included in the official soundtrack list, but are playing in the movie.
Listen to full soundtrack songs (where available)
---
1.

Made It – McCall
---
2.

Barbershop – Morgan Taylor
[5′]
Tom is in a bar, talking to a girl about her wrist tattoo, while this song plays in the background.
---
3.

It's You – VISITANTS
[28′]
Tom is dancing with his girlfriend, giggling, while Lucas talks to his girl friend on the phone.
---
4.

Make It Out – Mayr
[54′]
Tom is going to work. After that, the witch breaks into Lucas' house, getting into the bathtub with him.
---
5.

4 Letter Word – Andrew Stanton
---
6.

Turn Down The Voices – Curtis Braly
[45′]
While Tom is drunk again at the bar, hitting on an italian girl, Lucas comes in panicked, asking where Anna went.
End credits song.
---
---


Slapface official OST album tracklist, original motion picture score.
Original release date: 6 April 2021
Label: Jump The Candle
Original music composed by Barry J Neely
---
1. Slapface
Starting song / After Tom and Lucas slap each other over the face.
---
2. Burying Mom
3. How About A Dare?
4. Dark, There's Blood on the Floor
5. First She Was A Breeze
6. Third Funeral
7. I Have Your Gun
8. Thought She Was Behind Us
9. Then She Was A Tree
---
10. Of The Poor Little Boys
[56′]
The witch and Lucas are tearing apart all the stuff in the house. After that, the witch and Lucas get in a fight because she took his mom's clothes.
---
11. This Is Gonna Hurt
12. Is She The Monster?
13. Wake Up, Please
14. Sometimes Really Bad Things Happen
15. Virago
---
Listen to the full score songs playlist from Slapface Soundtrack (2022) :



YouTube

Spotify
---
Trailer Video

Watch the trailer for this film
Category: Horror Movie Soundtracks, Thriller Movie Soundtracks

What to Watch this Week |

Top TV Series |

Top Films |

TV Series Schedule |

In Theaters Now
Slapface  Film information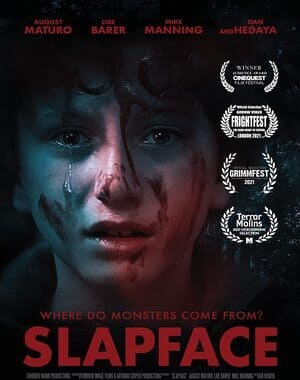 Movie Genre: Horror, Thriller
Release date (wide): 3 February 2022
Runtime: 1h 25m

---
IMDB: Slapface
View more music by:

Composers Archive
---