The soundtrack to South Park: The Streaming Wars music, a 2022 movie
, tracklist, listen to all of the 3 full soundtrack songs, play full OST music & trailer tracks. View all song names, who sings them, stream 3 additional tune playlists, scores, and credits used in the movie. Read 3 scene descriptions with timelines from the Paramount+ movie.
---
Song credits - additional film music - songs that are not included in the official soundtrack list, but are playing in the movie.
Listen to full soundtrack songs (where available)
---
1.

Slippery When Wet – Commodores
[0:01′]
Randy is using all the water for his Tegridy farm. /
Starting title song
---
2.

WAP – Cardi B Feat. Megan Thee Stallion
[0:11′]
Stan and Token build a demo ship, for Token's family, who starts the first water streaming service.
---
3.

Use Me – Bill Withers
[0:46′]
Pi-Pi's won the streaming wars, fooling everybody. /
Ending credits song

South Park: The Streaming Wars official OST album tracklist, original motion picture score.
Original music composed by Jamie Dunlap
Not yet released
---
Trailer Video

Watch the trailer for this film
Streaming on:  Paramount+
Category: Animation Movie Soundtracks, Comedy Movie Soundtracks, Paramount+

What to Watch this Week |

Top TV Series |

Top Films |

TV Series Schedule |

In Theaters Now
South Park: The Streaming Wars  Film information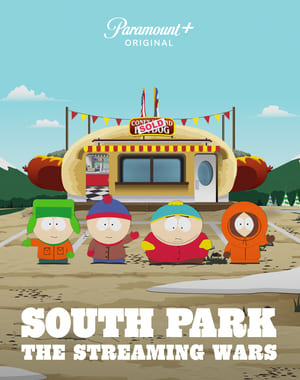 Movie Genre: Animation, Comedy
Release date (wide): 1 June 2022
Runtime: 48m
Production: South Park Studios
Distributor: Paramount+
Director: Trey Parker
Stars: Charlie Day (voice), Matt Stone (voice), Trey Parker (voice)



IMDB: South Park: The Streaming Wars

View more music by:

Composers Archive
---