The soundtrack to Surrounded music, a 2023 movie
, tracklist, listen to all of the 4 full soundtrack songs, trailer tracks. View all song names, who sings them, stream 4 additional tune playlists, scores, and credits used in the movie. Read 4 scene descriptions with timelines.
---
Song credits - additional film music - songs that are not included in the official soundtrack list, but are playing in the movie.
Listen to full soundtrack songs (where available)
---
1. Down to the River to Pray – Cast
[0:41']
Tommy asks Mo if he knows any hymns, and then begins to run away from him while singing the lyrics of this song.
---
2.

Calling Me Home (feat. Francesco Turrisi) – Rhiannon Giddens
[0:45']
As soon as the bandit releases Tommy, Mo picks up the document and begins to cry. Mo sits on a rock wounded, holding his bible, then gets dressed and walks away.
---
3. Glory, Glory, Hallelujah! – Cast
[1:28′]
Will sings this song after being shot by Mo, who afterwards shoots him dead.
---
4. God Drag Me Along – Ben Harper
[1:35']
Ending credits song.
Trailer Video

Watch the trailer for this film
Trailer songs (full tracks)

Calling Me Home (with Francesco Turrisi) - Rhiannon Giddens
Category: Western Movie Soundtracks

What to Watch this Week |

Top TV Series |

Top Films |

TV Series Schedule |

In Theaters Now
Surrounded Film information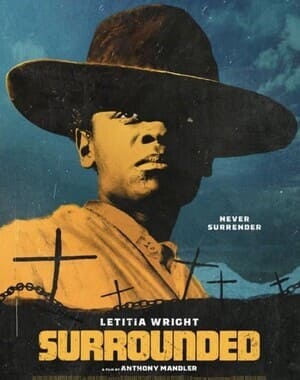 Movie Genre: Western
Release date (wide): 20 June 2023
Runtime: 1h 40m
Production: 3.16 Productions, BRON Studios, BlackHand
Director: Anthony Mandler
Stars: Letitia Wright, Jamie Bell, Michael Kenneth Williams




IMDB: Surrounded

Composers Archive
---