The soundtrack to The Great Seduction music (La Gran Seducción), a 2023 Netflix movie
, tracklist, listen to all of the 14 full soundtrack songs, 1 trailer track. View all song names, who sings them, stream 14 additional tune playlists, scores, and credits used in the movie. Read 12 scene descriptions with timelines.
---
Song credits - additional film music - songs that are not included in the official soundtrack list, but are playing in the movie.
Listen to full soundtrack songs (where available)
---
1.

Échale Campeón – Sgt. Papers
[0:12']
As Mateo prepares for the hospital, he is eager to find out if he will get the job.
---
2.

Soy Basura – Pájaros Vampiro
[0:13']
Suarez informs his girlfriend that the job was offered to Mau.
---
3.

Black Room (feat. Spagguetta Orghasmmound) – Los Sustos
[0:32']
There is a long line of island residents waiting to see Doctor Suarez.
---
4.

Lo Hice Por El Punk – Belafonte Sensacional
[0:45']
This song was played on the radio by Mateo when he returned from fishing.
---
5.

Tonta Canción De Amor – El Gran Silencio
[0:46']
Mateo enjoys living on the island more and more.
---
6.

Antes de Que Nos Olviden – Caifanes
[0:48']
Jorge and Mateo listen to this song together.
[0:52']
This song is sung at the party by Jorge and the band.
---
7.

Emilia – Gilberto Ventura
[0:55']
Jorge reveals to Mateo that the butcher performs the surgeries on the island because the nearest hospital is five hours away.
---
8.

El Rebelde – Jose Luis Lepe
[0:58']
Mr. Hernandez informs German that he cannot start the project if there are not at least 200 people on the island.
---
9.

La Del 112 – Carlos Mendoza
[1:00']
Benjamin, Margarita, and Mateo dance to this song in the restaurant when Mr. Hernandez returns to get his hat.
---
10.

Puñalada Al Corazon – Xocoyotzin Herrera
[1:06']
During a visit to the restaurant, Mateo discovers that the village has a new doctor.
---
11.

Vivo – Fobia
[1:24']
Mateo decides to become the island's doctor. Maria returns to the island.
---
12. Grub an Kiel – Roberto Verastegui y Topacio Ortiz
---
13.

La Nostalgia – Rumba San Feroz
---
14. La Culpa – Enzo y su Clan
---
Trailer Video
Watch the trailer
1.

The Great Seduction Trailer




Trailer songs (full tracks)


1.

Vivo - Fobia



Category: Comedy Movie Soundtracks, Netflix

What to Watch this Week |

Top TV Series |

Top Films |

TV Series Schedule |

In Theaters Now
The Great Seduction  Film information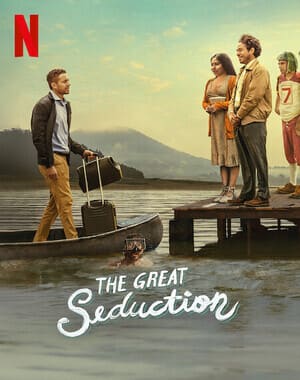 Movie Genre: Comedy
Release date (wide): 30 August 2023
Runtime: 1h 34m
Production: Pimienta Films, Cuadernos de Cine
Distributors: Pimienta Films, Netflix
Director: Celso R. García
Actors: Guillermo Villegas, Pierre Louis, Yalitza Aparicio




IMDB: The Great Seduction

Composers Archive
---