The soundtrack to Zombie Town music, a 2023 movie
, tracklist, listen to all of the 5 full soundtrack songs, 1 trailer tracks. View all song names, who sings them, stream 4 additional tune playlists, scores, and credits used in the movie. Read 4 scene descriptions with timelines.
---
Song credits - additional film music - songs that are not included in the official soundtrack list, but are playing in the movie.
Listen to full soundtrack songs (where available)
---
1.

Zombie Stomp – Billy Ghoulston
[0:08']
Mike arrives at the high school in this scene.
---
2.

The Air That I Breathe – The Hollies
[0:26']
Mike checks the messages with Amy and notices that she has not answered.
---
3.

Pump It Up – Elvis Costello & The Attractions
[0:47']
Mike is in the bathroom when he gets attacked by a zombie. Amy notices the danger and saves him with the help of an extinguisher.
---
4.

Rock Me Gently – Andy Kim
[1:24']
End credits song
---
Trailer Video
Watch the trailer

Zombie Town Trailer

Trailer songs (full tracks)

Warrior Stance - Amy Caddies McKnight & David John Parsons



Category: Comedy Movie Soundtracks, Horror Movie Soundtracks

What to Watch this Week |

Top TV Series |

Top Films |

TV Series Schedule |

In Theaters Now
Zombie Town  Film information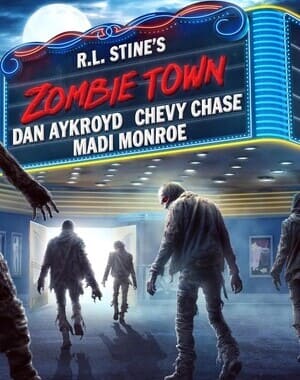 Movie Genre: Comedy, Horror
Release date (wide): 1 September 2023
Runtime: 1h 33m
Production: Now Entertainment Group, Trimuse Entertainment Inc.
Distributor: Viva Pictures, Trimuse Entertainment Inc.
Director: Peter Lepeniotis
Stars: Chevy Chase, Dan Aykroyd, Henry Czerny




IMDB: Zombie Town

Composers Archive
---