The soundtrack to Aloha Heart music, a 2023 Hallmark Channel movie
, tracklist, listen to all of the 11 full soundtrack songs. View all song names, who sings them, stream 11 additional tune playlists, scores, and credits used in the movie. Read 8 scene descriptions with timelines.
---
---
Song credits - additional film music - songs that are not included in the official soundtrack list, but are playing in the movie.
Listen to full soundtrack songs (where available)
---
1.

Hulali E – Ei Nei
[0:01']
A band performs on stage at the Hale Hoaloha Resort Grand Opening.
---
2.

Kings of Summer – Wylder
[0:23']
After checking out the wedding rehearsal venue, Manu and Sara travel back to the resort.
---
3.

Ukulele Lullaby – Schlomo Blank
[0:27']
Michael tells Sara to take a break as she is on vacation, then leaves with Lydia. The next day, Sara approaches Manu and asks him if it's possible to see one more place for comparison.
---
4.

Beautiful Day – Imaginary Future
[0:33']
In the evening, Sara works on her laptop and thinks of ways to help Manu with the water issue.
---
5.

Fireflies – Taryn ft. Kenna
[1:02']
Manu informs the guests that the pool is temporarily closed. He texts Sara that he had to close the pool and thanks her for all her help. The next day, Sara passes by Manu on the beach and keeps walking without speaking to him.
---
6.

Imagine What Could Be – George Stephenson & Lee James
[1:04']
The guests are playing Jenga. Sarah and Lydia talk about the rehearsal dinner. Michael comes and asks if there's anything he can do to help.
---
7.

Honeymoon – Johnny Stimson
[1:12']
The bridesmaids walk down the aisle, followed by Lydia, who marries Michael.
---
8.

Villa Nights – Benjamin Ian Cocks & Reese William Szabo
[1:17']
Everybody starts dancing after Sara gives a speech to the newlyweds.
---
9.

East Side Slack Key – Kawika Kahiapo
---
10.

Sunbliss – Benjamin Ian Cocks & Reese William Szabo
---
11.

Island Love – Benjamin Ian Cocks & Reese William Szabo
---
Trailer Video
Watch the trailer
1.

Aloha Heart Trailer

Category: Comedy Movie Soundtracks, FuboTV, Hallmark Channel, Romance Movie Soundtracks

What to Watch this Week |

Top TV Series |

Top Films |

TV Series Schedule |

In Theaters Now
Aloha Heart  Film information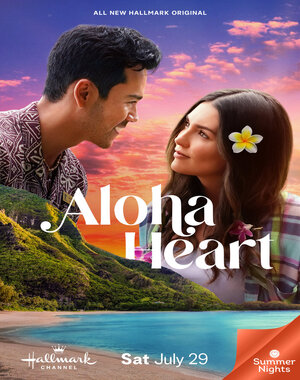 Movie Genre: Comedy, Romance
Release date (wide): 29 July 2023
Runtime: 1h 24m
Production: Island Film Group
Distributor: Hallmark Channel
Director: Seth Jarrett
Stars: Olivia Nicole Hoffman, Taylor Cole, Alex Dayuha




IMDB: Aloha Heart

Composers Archive
---