The soundtrack to Ballerina music, (발레리나) a 2023 Netflix movie
, tracklist, listen to all of the 15 full soundtrack songs, play 15 full OST music. View all song names, who sings them, stream 15 additional tune playlists, scores, and credits used in the movie. Read 16 scene descriptions with timelines.
---


Ballerina official OST album tracklist, original motion picture score.
Original release date: 6 October 2022
Label: Netflix Music
Original music composed by GRAY
---
1.

HIGH SCORE. PIROUETTE
[00:02']
At the supermarket, Ok-Ju starts fighting with the group that was harassing the seller.
---
2.

BALLERINA – GRAY feat. DeVita
[00:03']
Title card. The ballerinas dance on stage.
---
3.

I GOT BLOOD. POINTSHOES. ON THE SWING
[00:09']
Ok-Ju enters the bedroom and turns off the radio. She opens the gift box and reads the note. After that, she finds her friend dead in the hot tub.
---
4.

NIGHT RIDER. BAD MEETS EVIL. BOSS. SMELLS WEIRD. GOOGLE MAP
[00:06']
Ok-Ju rides her motorcycle at night on her way to the supermarket, where she buys some alcohol.
[00:48']
Choi Pro goes to a pharmacy and asks the seller to open the back door for him.
---
5.

BITTERSWEET TRAGEDY – GRAY feat. Jambino
---
6.

SHOWTIME – GRAY feat. DeVita
[00:21']
Ok-Ju follows the car to the woods, then checks out the property.
---
7.

INTO THE FOREST. DON′T OPEN. NIGHTMARE
[00:24']
Ok-Ju manages to open the door and then checks out every room in the house.
---
8.

BALLON. PHARMACY. BEFORE THE SHOW
[00:29']
Choi listens to a record with this song. Ok-Ju listens to his conversation after she plants a microphone in his house.
---
9.

THIS IS HOW WE DO IT – GRAY feat. Woo
[00:32']
People are having fun in the club. Ok-Ju sits alone at the bar and drinks a milkshake.
---
10.

GRAND PAS DE DEUX
[00:42']
OK-Ju runs away after getting rid of the man with the chainsaw. Surgery is performed on the attacker to reconstruct his face.
---
11.

BLACK FRIDAY. DEAD OR ALIVE. HATE. CON BRIO. ADAGIO
[00:54']
OK-Ju and her friend wait by the car as a white van approaches. Ok-Ju hands a bag full of cash to the old couple.
[01:12']
OK-Ju heads to the stables with the gun in her hand.
---
12.

CHECKMATE – GRAY feat. Jun Jong Seo & DeVita
---
13.

CODA
[01:25']
On the beach, Ok-Ju kills Choi Pro by burning him alive.
---
14.

KALеIDOSCOPE. POISSON. ON MY HANDS
[00:17']
The song plays during the montage where Ok-Ju remembers her friendship with Minhee.
[00:29']
After watching the video, Ok-Ju goes outside and starts crying.
---
15.

BLOOD ON MY HANDS
[01:28']
Music plays in the background in the final scene of the movie. End credits.
---
Listen to the full score songs playlist from Ballerina Soundtrack (2023) :



YouTube

Spotify
Trailer Video
Watch the trailer

Ballerina Trailer

Category: Action Movie Soundtracks, Netflix, Thriller Movie Soundtracks

What to Watch this Week |

Top TV Series |

Top Films |

TV Series Schedule |

In Theaters Now
Ballerina Film information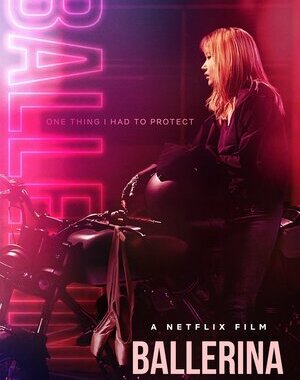 Movie Genre: Action, Thriller
Release date (wide): 6 October 2023
Runtime: 1h 32m
Production: Climax Studio
Distributor: Netflix
Directors: Chung-Hyun Lee
Stars: Kim Ji-hoon, Jeon Jong-seo, Ji-hun Kim




IMDB: Ballerina

View more music by:

Composers Archive
---