The soundtrack to Golda music, a 2023 movie
, tracklist, listen to all of the 23 full soundtrack songs, play 22 full OST music & trailer tracks. View all song names, who sings them, stream 1 additional tune playlist, scores, and credits used in the movie. Read 19 scene descriptions with timelines.
---
Song credits - additional film music - songs that are not included in the official soundtrack list, but are playing in the movie.
Listen to full soundtrack songs (where available)
---
1. Moonlight Sonata (by Beethoven) – Cast
[00:05']
(October 1973) A little girl plays the piano at East Finchley School in London. Mrs. Epstein heads to the office to answer the phone.
---


Golda official OST album tracklist, original motion picture score.
Original release date: 25 August 2023
Label: MNRK Music Group
Original music composed by Dascha Dauenhauer
---
1.

Golda
[00:02']
Golda lights a cigarette and smokes in the back seat of the car. A large crowd is protesting outside.
---
2.

War Time
[00:27']
Dayan enters the conference room and informs everyone that they have lost the North and that he alerted Dimona.
---
3.

Dying
[00:10']
Golda is at the hospital, getting a CAT scan.
[01:18']
Lou assists Golda when she feels unwell. Kissinger calls and informs Golda that Sadat wants her to send her chief of staff to a junction on the Suez-Cairo road.
---
4.

A Hunted Woman
---
5.

Borsch with Kissinger
[01:10']
Kissinger thanks Gouda for the borsch and leaves the house, wishing her good luck.
---
6.

Politics
[01:03']
Golda is informed that Henry Kissinger will land in Tel Aviv.
---
7.

The Horror of War
[00:24']
Golda prepares to give a live television speech about the war.
---
8.

Testimonial
[00:14']
During the testimonial, Golda is asked if she trusted the Egyptian spy, Marwan.
---
9.

So It Began
[00:00']
The movie opens with news about the war in Israel.
---
10.

Birds Everywhere
[00:33']
Golda walks through a corridor and hears the birds squawking.
---
11.

Bleeding Soul
---
12.

Corridors
[00:08']
Golda enters the Hadassah hospital in Jerusalem. A woman informs her that nobody saw her entering the place.
---
13.

Fatigue and Fear
---
14.

Crossing the Canal
---
15.

Nightmares
---
16.

Golda & Lou
[00:47']
Golda heads to the hospital for another checkup. Later, Lou bathes her, and they talk before bedtime.
---
17.

The Siren That Will Not Leave My Mind
---
18.

Conference
[00:11']
After getting a phone call early in the morning, Golda gets in the car and heads to the conference.
---
19.

Dido's Lament "When I Am Laid in Earth" – Henry Purcell & Leopold Stokowski
[01:33']
First end credits song.
---
20.

Trip to the South
[01:38']
Second end credits song.
---
21.

Golda's Requiem
[01:25']
After seeing Shir crying, Golda returns to her room in tears. Later, she watches the staff retrieve the caskets from the airplane.
[01:39']
Third end credits song.
---
22.

Who by Fire – Elias Abid & Ysa
[01:31']
The song plays in the movie's final scene when Golda dies on a hospital bed.
---
Listen to the full score songs playlist from Golda Soundtrack (2023) :



YouTube

Spotify
Trailer Video
Watch the trailer
1.

GOLDA | Official Trailer | Bleecker Street

Category: Biography Movie Soundtracks, Drama Movie Soundtracks, History Movie Soundtracks, Uncategorized, War Movie Soundtracks

What to Watch this Week |

Top TV Series |

Top Films |

TV Series Schedule |

In Theaters Now
Golda Film information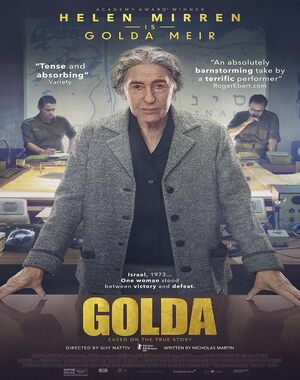 Movie Genre: Biography, Drama, History, War
Release date (wide): 25 August 2023
Runtime: 1h 40m
Production: Embankment Films, Hianlo, Maven Screen Media
Distributor: Bleecker Street Media
Director: Guy Nattiv
Actors: Helen Mirren, Zed Josef, Claudette Williams




IMDB: Golda

View more music by:

Composers Archive
---