The soundtrack to My Fault music (Culpa mía), a 2023 Prime Video movie
, tracklist, listen to all of the 22 full soundtrack songs, trailer tracks. View all song names, who sings them, stream 21 additional tune playlists, scores, and credits used in the movie. Read 21 scene descriptions with timelines.
---
Song credits - additional film music - songs that are not included in the official soundtrack list, but are playing in the movie.
Listen to full soundtrack songs (where available)
---
1.

Me Quiero ir – Iusillon
Opening song / Noah packs a few things from her room into a suitcase and leaves.
[0:03']
Noah argues with her mother in the car. She tells her she does not want to be sent to a fancy school that a stranger pays for. She replies that the person is not a stranger but rather her husband.
---
2.

LA COMBI VERSACE – ROSALIA & Tokischa
[0:04']
William welcomes Noah and tells her he wants her to feel at home and to consider him part of the family.
---
3.

Strange Effect (Killing Eve) – Unloved & Raven Violet
[0:11']
William tells Noah she looks stunning.
---
4.

Sacudete – Gotopo & Don Elektron
[0:17']
Mario tells Noah there's no party without Nick.
---
5.

CHIBI – Esty
[0:20']
Jenna goes to Noah and asks her if she can help.
---
6.

Ptazeta: Bzrp Music Sessions, Vol.45 – Bizarrap & Ptazeta
[0:31']
Nick takes part in a car race.
---
7.

K. – Cigarettes After Sex
[0:32']
As Nick starts the race, he sees Noah.
---
8.

Gasolina 2 (Remix) – ELITE Djs
[0:36']
Noah is dancing and drinking alcohol at the party.
---
9.

Nuestra Cancion – Brunog
[0:39']
Nick and Noah kiss.
[1:52']
End credits song.
---
10.

Toro – Aiko el grupo
[0:44']
Noah and Ronnie compete in a car race. She wins.
11.

Pensar en Ti – Ganges & Natalia Lacunza
[0:52']
William, Noah, and her mother arrive in a limousine at the gala.
---
12.

I'll Wait – Jack in Water
[1:03']
Nick puts ice on his bruised face.
---
13.

Tiroteo (Remix) – Marc Segui, Rauw Alejandro & Pol Granch
[1:17']
Nick jogs on the beach.
---
14.

2050 – Samantha Sanchez
[1:21']
Noah's father is in the car outside and watches the house.
---
15.

Dirty Diabla – Lapili
[1:23']
Jenna tells Nick that Noah has been out of control for two weeks and he should apologize to her.
---
16.

Cosma – Feed the Light
[1:25']
Nick drives Noah home.
---
17.

Joyride (home demo) – Jake Whiskin
[1:26']
Nick wakes up next to Noah. He tells her he should leave before everyone wakes up and then his father enters the room.
---
18.

Till Forever Falls Apart – Ashe & FINNEAS
[1:31']
Nick and Noah make love on the beach at night.
---
19.

Memory Lane – Haley Joelle
[1:50']
After they make love Nick tells Noah he loves her.
---
20. Ahora Que Puedo – Eva Ruiz
---
21.

Bella – Nicole Wallace
Trailer Video

Watch the trailer for this film
Trailer songs (full tracks)

Starving - Thomas McNeice, Janine Shilstone & Robin Thomson
Streaming on: Prime Video
Category: Drama Movie Soundtracks, Prime Video

What to Watch this Week |

Top TV Series |

Top Films |

TV Series Schedule |

In Theaters Now
My Fault Film information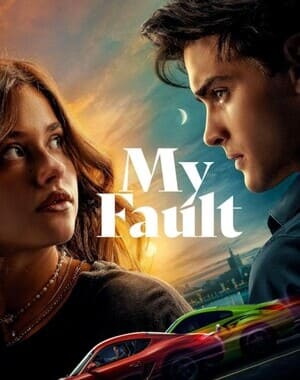 Movie Genre: Drama
Release date (wide): 8 June 2023
Runtime: 1h 57m
Production: Amazon Studios, Pokeepsie Films
Distributor: Amazon Prime Video
Director: Domingo González
Stars: Fran Berenguer, Noah Casas, Gabriel Guevara




IMDB: My Fault

Composers Archive
---