The soundtrack to Nandor Fodor and the Talking Mongoose music, a 2023 movie
, tracklist, listen to all of the 14 full soundtrack songs, play 13 full OST music. View all song names, who sings them, stream 1 additional tune playlists, scores, and credits used in the movie. Read 12 scene descriptions with timelines.
---
Song credits - additional film music - songs that are not included in the official soundtrack list, but are playing in the movie.
Listen to full soundtrack songs (where available)
---
1. Someday I'll Find You (Doris Day) – Cast
[0:49]
Anne hears two voices singing this song upstairs, then knocks on Voirrey's door.
[0:52]
Voirrey sings this song to Anne, then asks her to do the same next to the hole in the wall.
---


Nandor Fodor and the Talking Mongoose official OST album tracklist, original motion picture score.
Original release date: 25 August 2023
Label: BMG
Original music composed by Bill Prokopow
---
1.

Nandor Fodor Main Theme
[0:06]
Opening credits song.
---
2.

The Letter from Dr. Price
[0:11]
Fodor reads the letter from Dr. Price, who claims that there is a mysterious creature like a mongoose who speaks like a human.
---
3.

Houdini's Hidden Code
[0:17]
At the bar, Dr. Price tells Fodor that he reminds him of Harry Houdini.
---
4.

Journey to the Isle of Man
[0:20]
Fodor informs Anne that he wants to go to the Isle of Man to investigate the case. She falls asleep on the train as he reads the journal.
---
5.

The Irving Family Farm
[0:24]
Dr. Price recalls the night he met the Irvings and he describes the members of the family.
---
6.

A Dream of Death
[0:32]
At the bar, Anne meets Maurice, who tells her that he has heard Jeff's voice telling him a poem.
---
7.

I See You've Met Our Mayor
[0:37]
Maurice drives Anne and Fodor to the place where they meet Mr. Irving.
---
8.

I Shall Never See You Again
---
9.

A Fine Morning
[1:04]
A crowd gathers in front of the barn where Jeff will appear.
---
10.

Sledgehammer
[1:11]
Fodor heads to Maurice's place and borrows a sledgehammer, then asks him to drive to the farm in the middle of the night.
---
11.

Jail
[1:18]
In jail, Jeff scratches Fodor's arm, as proof that he exists.
---
12.

Welcome Back
[1:21]
Anne agrees to stay after Fodor accepts to give her a raise, then she requires a letter of introduction to Dr. Elliott.
---
13.

For What Will the Irving's Be Remembered? / End Title Suite
[1:27]
The song plays in the final scene when Fodor talks with Dr. Price and continues throughout the closing credits.
---
Listen to the full score songs playlist from Nandor Fodor and the Talking Mongoose Soundtrack (2023) :



YouTube

Spotify
Trailer Video
Watch the trailer
1.

Nandor Fodor and the Talking Mongoose Trailer

Category: Adventure Movie Soundtracks, Comedy Movie Soundtracks, Mystery Movie Soundtracks, Thriller Movie Soundtracks

What to Watch this Week |

Top TV Series |

Top Films |

TV Series Schedule |

In Theaters Now
Nandor Fodor and the Talking Mongoose Film information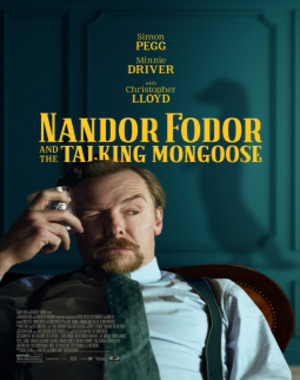 Movie Genre: Comedy, Mystery & thriller, Adventure
Release date (wide): September 19, 2023
Runtime: 1h 36m
Production: Tetrad Studios, Future Artists Entertainment, Piccadilly Pictures
Distributor: Saban Films
Director: Adam Sigal
Stars: Simon Pegg, Minnie Driver, Christopher Lloyd




IMDB: Nandor Fodor and the Talking Mongoose

View more music by:

Composers Archive
---