The soundtrack to Sonic the Hedgehog 2, a 2022 movie music
, tracklist, listen to all of the 42 full soundtrack songs, play 22 full OST music & trailer tracks. View all song names, who sings them, stream 20 additional tune playlists, scores, and credits used in the movie. Read 15 scene descriptions with timelines.
---
Song credits - additional film music - songs that are not included in the official soundtrack list, but are playing in the movie.
Listen to full soundtrack songs (where available)
---
1.

It's Tricky – Run-DMC
[0:05′]
Sonic enters the truck of some thieves and starts driving it.
---
2.

The 1812 Overture Op. 96 – Peter Ilich Tchaikovsky
[0:08′]
The police catch the thief after Sonic disassembles the truck to save the civilians.
---
3.

Here Comes the Hotstepper (Heartical Mix) – Ini Kamoze
[0:15′]
Sonic is having fun and making a mess in the house since he was left alone when Tom and his wife went to Rachel's wedding.
---
4.

This Is How We Do It – Montell Jordan
[0:18′]
Sonic gets a phone call from Tommy. He tries to not appear suspicious.
---
5.

Living On The Road – written by Federico Rapagnetta, Giuseppe Santamaria, Duilio & Enrico Cosimi
---
6. Hapa Haole – written by Porouchi Nawohi
[0:19′]
Tom gets tricked by Rachel's fiancée. Afterward, Tom and Rachel decide to bury the hatched.
---
7.

Don't Know Why – Norah Jones
[0:27′]
Stone is preparing coffee. He gets a message from Eggman and closes the coffee shop.
---
8. Me And You – Rich White
[0:34′]
Stone is waiting for Eggman. He prepared a coffee with both their faces made out of milk foam.
---
9. Severny Kozachok – written by Vyvyon John Ekkel
[0:44′]
Sonic and Tails engage in a dance fight with the Russians.
---
10. Russian Dance 1 – written by Lee Blaske, Darren Drew & Brian Reidinger
---
11.

Uptown Funk – Mark Ronson Feat. Bruno Mars
[0:45′]
After Tails gets scared, Sonic changes the song and they start dancing to it.
---
12.

A Summer Place – Andy Williams
[0:54′]
Sonic dodges the drones of Robotnik.
---
13. Aloha Pachelbel
[0:57′]
This song plays at Rachel and Randall's wedding.
---
14.

Green Hill Zone – Masato Nakamura
---
15.

You Know How We Do It – Ice Cube
[0:57′]
Wade is riding a scooter.
---
16.

Barracuda – Heart
[1:07′]
Rachel attacks Randall in a golf cart.
---
17.

I Shrink, Therefore I Am (From The Motion Picture Ant-Man and The Wasp) – composed by Christophe Beck & Tyler Lawson Western
---
18.

Walk – Pantera
[1:32′]
Robotnik builds a huge robot out of the police tanks and then dances to this song.
---
19.

The Final Game / Take Me Out To The Ball Game ( From The Motion Picture The Natural) – composed & conducted by Randy Newman
---
20.

Stars In The Sky (From Sonic The Hedgehog 2) – Kid Cudi
[0:09′]
Sonic returns home.
[1:50′]
After a baseball game, Sonic, Knuckles, Tails, Tom, and Maddie go get ice cream.
First ending credits song


Sonic the Hedgehog 2 official OST album tracklist, original motion picture score.
Original release date: 8 April 2022
Label: Paramount Music
Original music composed by Tom Holkenborg (Junkie XL)
---
1. Piece of Shiitake Planet
2. Blue Menace
3. Mind If I Drive
4. Sonic's Home
5. A Wachowski Family Special
6. Sonic, Meet Knuckles
7. Papa's Got a Brand New Stache
8. The Master Emerald
9. So You Think You Can Pivonka
10. Goodnight, Tails
11. Ages Ago
12. You Know Nothing about Me
13. Operation Catfish
14. Eureka, I Found It
15. Gotta Go Fast
16. Entering the Labyrinth
17. You Don't Have to Be Alone Anymore
18. Sinister
19. Team Vs Robotnik
20. Okay, We're Not Friends
21. A New Order
22. Dad
---
Listen to the full score songs playlist from Sonic the Hedgehog 2 Soundtrack (2022) :



YouTube

Spotify
Trailer Video

Watch the trailer for this film
Category: Action Movie Soundtracks, Adventure Movie Soundtracks, Animation Movie Soundtracks

What to Watch this Week |

Top TV Series |

Top Films |

TV Series Schedule |

In Theaters Now
Sonic the Hedgehog 2  Film information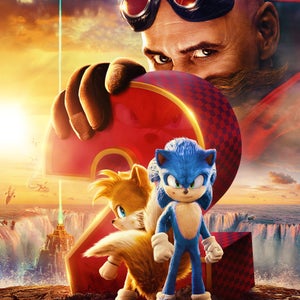 Movie Genre: Animation, Action, Adventure
Release date (wide): 8 April 2022
Runtime: 2h 2m




IMDB: Sonic the Hedgehog 2

View more music by:

Composers Archive
---