The soundtrack to Surprised by Oxford music, a 2023 movie
, tracklist, listen to all of the 7 full soundtrack songs, trailer tracks. View all song names, who sings them, stream 6 additional tune playlists, scores, and credits used in the movie. Read 6 scene descriptions with timelines.
---
Song credits - additional film music - songs that are not included in the official soundtrack list, but are playing in the movie.
Listen to full soundtrack songs (where available)
---
1.

Christmas Eve In My Home Town – Eddie Fisher
[00:01']
Starting song.
---
2.

The Christmas I Remember – The Craig Gildner Sextet
[00:32']
This song plays during the university Christmas party.
---
3.

Good Life – Palm City
[00:41']
Kent takes Caro to a bookstore and recommends a book written by C.S. Lewis.
---
4.

Go Get It – Jacob Steele
[00:45']
Caro and her friends drink beer with their teacher in a bar.
---
5.

Ubi Caritas – Poor Clare Sisters, Arundel
[01:18']
This song plays in the background when Caro and her friends enter the church.
---
6.

If Only My Heart Could Speak – Cody Fry
[01:19']
This song plays during the college party. Kent offers to show Caro the most beautiful view in Oxford.
---
Trailer Video
Watch the trailer

Surprised by Oxford Trailer

Trailer songs (full tracks)

Love You Well - Secret Nation



Category: Drama Movie Soundtracks, Romance Movie Soundtracks

What to Watch this Week |

Top TV Series |

Top Films |

TV Series Schedule |

In Theaters Now
Surprised by Oxford Film information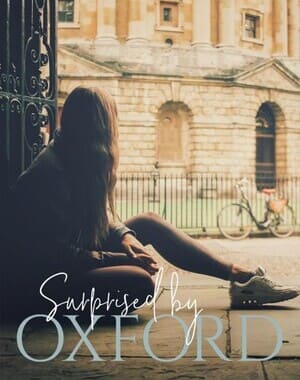 Movie Genre: Drama, Romance
Release date (wide): 27 September 2023
Runtime: 1h 47m
Production: Evolve Studios, Nook Lane Entertainment, Ascendant Fox
Distributor: Trafalgar Releasing
Director: Ryan Whitaker
Stars: Rose Reid, Nicholas Aaron, Simon Callow




IMDB: Surprised by Oxford

Composers Archive
---