The soundtrack to Tall Girl 2, a 2022 movie music
, tracklist, listen to all of the 20 full soundtrack songs, play full OST music & 1 trailer tracks. View all song names, who sings them, stream 19 additional tune playlists, scores, and credits used in the movie. Read 18 scene descriptions with timelines from the Netflix movie.
---
Song credits - additional film music - songs that are not included in the official soundtrack list, but are playing in the movie.
Listen to full soundtrack songs (where available)
---
1.

Kool – Benee
Opening credits of the movie / Jodi and Dunkle give a recap of the first movie Tall Girl.
---
2.

Slow Clap – Gwen Stefani
[2′]
Jodi walks into her school with confidence. Now she dares to try anything and inspire others.
---
3.
One Boy – Ava Michelle
[7′]
Jodi gathers her courage and finally auditions for the school play.
---
4.

Delmar Drag – Don Ewell Quartet
[8′]
Harper is announcing to her family that she got a new job and is moving to L.A.
---
5.

Superbloom – Misterwives
[10′]
Jodi and her boyfriend are celebrating because she got her first acting role.
---
6.

Living It Up – Rough Nights
[12′]
Jodi is brushing her teeth while the voice in her head is making her feel like an impostor.
---
7.

Frankie – Barrie
[16′]
In the scene before, Kimmy asked her BFF to humiliate Jodi at the first rehearsal. Tired of doing her dirty work, Schnip breaks their friendship.
---
8.

Represent – Mizzi
[18′]
A woman, who seems to be the owner of the shop they are in, asks Fareeda to bring some of her clothes to sell them in the shop.
---
9.
The Telephone Hour – Ashley Nguyen Dewitt
---
10.

Vi Ska Aldrig Gå Hem – Molly Sanden
[32′]
Stig's sister comes to live with Dunkle's family, surprising them during lunch break.
---
11.

A Lot Of Livin' To Do – Lee Adams and Charles Strouse
[41′]
Tommy showed Jodi why he was insecure and asked her to dance with him in that place.
---
12.

Dance For The Hell Of It – Lova
[50′]
After Dunkel and Jodi broke up, Stella finds out her boyfriend is cheating on her. Dunkel and Stella ally and go out for a photoshoot.
---
13.

Cool Kids – Ethan Tucker
[58′]
Fareeda's birthday party has started, but Jodi is running late because she has rehearsals.
---
14.

Shake Your Love – Deborah Ann Gibson
[1:01′]
In the scene before, Schnip tells Kimmy he is proud of her because she helped Jodi. Now, at the party, everyone is singing happy birthday to Fareeda.
---
15.
Take A Chance On Me – Anjelika Eashington and Luke Eisner
[1:02′]
At Fareeda's birthday party, she signs herself and Stig for Karaoke to help him overcome his fear of singing in public.
---
16.

Supersonic – Jacaranda
[1:13′]
In the scene before, Dunkle asked Stig to stay with him for the summer, and Stig accepted gladly.
---
17.

My Head And My Heart – Ava Max
[1:16′]
When Jodi and Dunkle get a moment to talk, Stella comes asking Dunkle to help her with her ex-boyfriend.
---
18.

Figure you Out – Luke Eisner and Gus Ross
[1:28′]
In the scene before, Jodi and Dunkle got back together after her show. Now the party her parents arranged for her began.
---
19.

As Long As You Love Me – Anthem Lights
[1:28′]
Dunkle brings Jodi a framed paper from when they were kids when he asked her to date him, and she said 'maybe'. This time she accepted. They start dancing afterward.
First end credits song.
---
20.

Be Who You Are – Ava Michelle and Jacaranda
[1:28′]
Second end credits song.
---
Tall Girl 2 official OST album tracklist, original motion picture score.
Original music composed by Mateo Messina
---
Not yet released.
---
Trailer Video

Watch the trailer for this film
Trailer songs (full tracks)

I've Got Electric Dreams - Extreme Music
Category: Comedy Movie Soundtracks, Drama Movie Soundtracks, Family Movie Soundtracks

What to Watch this Week |

Top TV Series |

Top Films |

TV Series Schedule |

In Theaters Now
Tall Girl 2 Film information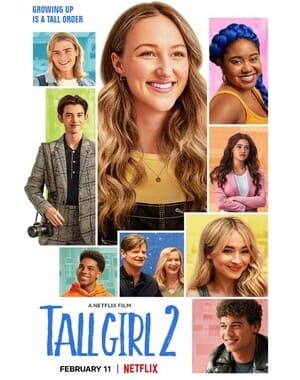 Movie Genre: Comedy, Drama, Family
Release date (wide): 11 February 2022
Runtime: 1h 37m

---
IMDB: Tall Girl 2
View more music by:

Composers Archive
---