The soundtrack to The Mill music, a 2023 Hulu movie
, tracklist, listen to all of the 10 full soundtrack songs. View all song names, who sings them, stream 10 additional tune playlists, scores, and credits used in the movie. Read 16 scene descriptions with timelines.
---
Song credits - additional film music - songs that are not included in the official soundtrack list, but are playing in the movie.
Listen to full soundtrack songs (where available)
---
1.

The Nutсracker Suite Op. 71a – Dance of The Reed – Flutes – Peter Tchaikovsky
Opening song. A businessman wakes up in an open-air prison cell without knowing where he is.
[01:32']
Johhny takes Joe to floor 66.
---
2.

Concerto 'La Primavera' : I. Allegro – Antonio Lucio Vivaldi, Venetian Ensemble
[00:03']
After talking to his neighbor, the man tries to climb up the walls to escape, then hears the guard whistling.
[00:23']
The guard whistles this tune while delivering Joe's food.
---
3. Yankee Doodle – Cast
[00:09']
A guard whistles this tune while some of the captives start screaming.
[01:25']
The guard is humming this tune as he enters Joe's cell.
---
4.

Blue Danube Waltz Op. 314 – Johann Strauss Jr.
[00:18']
Joe begins pushing the mill. Mallard congratulates him on his first revolution.
---
5.

Symphony No 9 in D Minor, Op 125 – Ludwig Van Beethoven
[00:26']
The song starts playing after the alarm blares. Joe starts working on his quota.
[00:28']
The song resumes after Joe has a flashback about his wife.
---
6.

Happy Clockmaker – George J. Blackmore
[00:31']
Joe wakes up in the morning and continues to push the mill. He talks to his neighbor while taking a short break as he can't work in the heat due to water shortages.
---
7.

Lacrimosa From Requiem in D Minor, K. 626 – Wolfgang Amadeus Mozart
[00:40']
Joe throws away the pen and curses at Mallord before working on his updated quota with his injured hands.
[01:05']
Joe continues to work and digs a hole in the wall in his free time.
---
8.

Fantasie – Impromptu in C-Sharp Min. Op. 66 – Frederic Francois Chopin
[00:50']
A new day begins. Mallord tells Joe to take advantage of the growth opportunity and give 110%, making it a productive day.
---
9.

The Kiss: Act 2: Overture – Antonio Dvorak
[01:14']
Joe walks around as he convinces his neighbors to go on a strike.
[01:18']
Joe starts working after Mallard announces that any employee who records zero revolutions will face immediate termination.
---
10.

Uprising – Flesh Field
[01:40']
End credits song.
---
The Mill official OST album tracklist, original motion picture score.
Original music composed by David Chapdelaine
---
Not yet released.
---
Trailer Video
Watch the trailer
1.

The Mill Official Trailer | Hulu

Category: Hulu, Mystery Movie Soundtracks, Sci-Fi Movie Soundtracks, Thriller Movie Soundtracks

What to Watch this Week |

Top TV Series |

Top Films |

TV Series Schedule |

In Theaters Now
The Mill Film information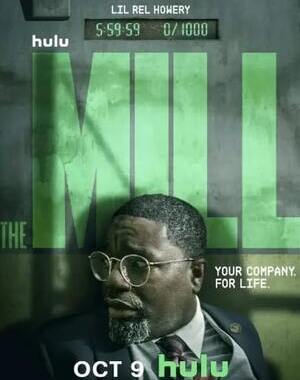 Movie Genre: Sci-fi, Mystery, Thriller
Release date (wide): 9 October 2023
Runtime: 1h 45m
Production: 20th Digital Studio, Altar Rock, Hulu Originals
Distributor: Disney+, Hulu
Director: Sean King O'Grady
Stars: Lil Rel Howery, Pat Healy, Karen Obilom




IMDB: The Mill

View more music by:

Composers Archive
---