The soundtrack to The New Boy music, a 2023 movie
, tracklist, listen to all of the 4 full soundtrack songs, play trailer tracks. View all song names, who sings them, stream 4 additional tune playlists, scores, and credits used in the movie. Read 5 scene descriptions with timelines.
---
Song credits - additional film music - songs that are not included in the official soundtrack list, but are playing in the movie.
Listen to full soundtrack songs (where available)
---
1.

The Lord is my Shepherd
[00:19']
Sister Eileen sings this song with the children in church after John's baptism.
[01:02']
Sister Eileen tells the new boy the story of Jesus.
---
2.

Love Song Of The Waterfall – Slim Whitman
[00:51']
The children listen to this song. The new boy dances to this song in front of the other children.
---
3. Ingkaartai Angkai Nuk-Urna (Master, Speak, Thy Servant Heareth) [Remastered] – Hermannsburg Choir
[01:04']
The new boy catches two lambs and brings them to Sister Mum.
---
4.

Sing, Sing, Sing – Benny Goodman
[01:48']
The new boy is taught to dress and behave like the boys from the monastery.
---
The New Boy official OST album tracklist, original motion picture score.
Original music composed by Nick Cave, Warren Ellis
---
Not yet released.
---
Trailer Video
Watch the trailer
1.

THE NEW BOY Official Trailer (2023)

Category: Drama Movie Soundtracks, Fantasy Movie Soundtracks, History Movie Soundtracks

What to Watch this Week |

Top TV Series |

Top Films |

TV Series Schedule |

In Theaters Now
The New Boy  Film information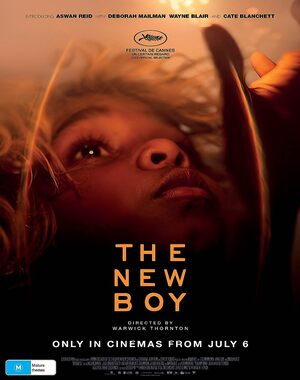 Movie Genre: Drama, Fantasy, History
Release date (wide): 6 July 2023
Runtime: 1h 56m
Production: Dirty Films, Scarlett Pictures
Distributor: Roadshow Films
Director: Warwick Thornton
Actors: Cate Blanchett, Aswan Reid, Deborah Mailman



IMDB: The New Boy

View more music by:

Composers Archive
---