The soundtrack to The Pod Generation music, a 2023 movie
, tracklist, listen to all of the 7 full soundtrack songs. View all song names, who sings them, stream 7 additional tune playlists, scores, and credits used in the movie. Read 7 scene descriptions with timelines.
---
Song credits - additional film music - songs that are not included in the official soundtrack list, but are playing in the movie.
Listen to full soundtrack songs (where available)
---
1.

Vesperae solennes de confessore, K. 339: Laudate Dominum – Bach Collegium Japan, Masaaki Suzuki & Carolyn Sampson
[0:21′]
Rachel goes home after attending the meeting at Pegazus and tells Alvy that the womb center called and offered a spot.
---
2.

Deranged – Tomas Palucha
[1:04']
Alvy watches a movie about penguins and cries.
---
3.

Big Noise from Winnetka – Gene Krupa
[1:23']
Alvy enters the room where the pods are kept and removes his pod from the table without being seen by the staff.
---
4.

Guitar Fashion – Anthony Mawer
[1:25']
In her dream, Rachel goes shopping for baby supplies.
---
5.

I'm Beginning To See the Light – Ella Fitzgerald
[1:29']
After traveling by bus and boat, Alvy and Rachel arrive at their cabin in the woods.
---
6.

Boite a musique (Enfant) – Julien Negre
[1:36']
The pod plays this lullaby in the morning, and Rachel freaks out as Alvy tries to break it open.
---
7.

God Bless the Child – Tony Bennett & Billie Holiday
[1:41']
End credits song.
---
The Pod Generation official OST album tracklist, original motion picture score.
Original music composed by Evgueni Galperine & Sasha Galperine
---
Not yet released.
---
Trailer Video
Watch the trailer
1.

The Pod Generation Trailer

Category: Comedy Movie Soundtracks, Drama Movie Soundtracks, Romance Movie Soundtracks, Sci-Fi Movie Soundtracks

What to Watch this Week |

Top TV Series |

Top Films |

TV Series Schedule |

In Theaters Now
The Pod Generation  Film information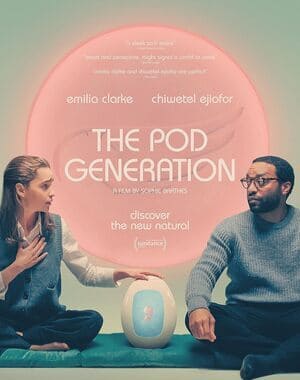 Movie Genre: Comedy, Drama, Romance, Science-Fiction
Release date (wide): 11 August 2023
Runtime: 1h 49m
Production: Quad Productions Scope Pictures
Director: Sophie Barthes
Stars: Emilia Clarke, Chiwetel Ejiofor, Vinette Robinson




IMDB: The Pod Generation

View more music by:

Composers Archive
---