The soundtrack to The Retirement Plan music, a 2023 movie
, tracklist, listen to all of the 5 full soundtrack songs &amp. View all song names, who sings them, stream 5 additional tune playlists, scores, and credits used in the movie. Read 5 scene descriptions with timelines.
---
Song credits - additional film music - songs that are not included in the official soundtrack list, but are playing in the movie.
Listen to full soundtrack songs (where available)
---
1.

The Tide Is High – Blondie
[00:10']
Sarah arrives at Matt's house. She knocks on his door, but no one answers, so she goes to the back of the house. On the beach, Matt sleeps on the sand. She wakes him up and informs him that her mother sent her to him.
---
2.

Carmen, Act ll; Votre toast, je peux vous le rendre – Jeff Meegan
[00:14']
Donnie holds Ashley hostage. He asks her where his hard drive is.
---
3.

Shake and Bounce – Sam Harris & The World
[00:25']
Sarah asks Matt if he is rich, and he replies that it depends on the perspective.
---
4.

Crazy About That Walk – John Lee Hooker
[00:58']
Hector meets Kellen by the pool. Hector asks Kellen if she knows a company called AJ Boat Charters. Kellen starts to cry and apologizes for moving the money.
---
5.

Where Have All The Good People Gone? – Sam Roberts
[01:38']
A government agent tells Matt that they have been trying to shut down Hector's East Coast business for a long time and used him to get to her. After the agent leaves, Matt gets on the boat and heads to the Cayman Islands.
---
The Retirement Plan official OST album tracklist, original motion picture score.
Original music composed by Roger Suen
---
Not yet released.
---
Trailer Video
Watch the trailer

THE RETIREMENT PLAN Trailer (2023) Nicolas Cage

Category: Action Movie Soundtracks, Comedy Movie Soundtracks, Crime Movie Soundtracks

What to Watch this Week |

Top TV Series |

Top Films |

TV Series Schedule |

In Theaters Now
The Retirement Plan  Film information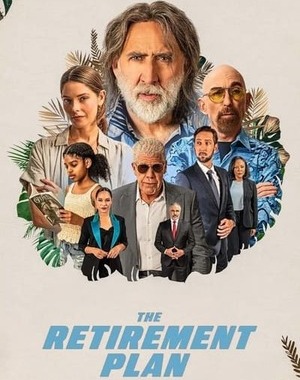 Movie Genre: Action, Comedy, Crime
Release date (wide): 15 September 2023
Runtime: 1h 43m
Production: Darius Films, Productivity Media
Distributor: Falling Forward Films
Director: Tim Brown
Stars: Nicolas Cage, Ashley Greene, Ron Perlman




IMDB: The Retirement Plan

View more music by:

Composers Archive
---