The soundtrack to The Squad: Home Run music (Antigang: La Relève), a 2023 Disney + movie
, tracklist, listen to all of the 11 full soundtrack songs. View all song names, who sings them, stream 11 additional tune playlists, scores, and credits used in the movie. Read 7 scene descriptions with timelines.
---
Song credits - additional film music - songs that are not included in the official soundtrack list, but are playing in the movie.
Listen to full soundtrack songs (where available)
---
1.

2 Atoms In A Molecule – Noah And The Whale
[00:00']
Niels is having fun at the beach with his family.
---
2.

Concerto No. 1 in E Major, Op. 8-Allegro – Antonio Vivaldi
[00:15']
Niels's phone starts ringing while he is in the shower.
---
3.

Prenons Notre Temps – Poetic Lovers
[00:17']
Charlotte and her dad are in the car, listening to her mother's favorite song.
---
4.

Nique La Bac – Lorenzo
[00:17']
Charlotte changes the radio channel.
[01:29']
End credits.
---
5.

A 1km Dal Mare – Angelo Coniglio, Vichenzo Orru
[00:35']
While making chemical processes, a man is listening to music through his earphones.
---
6.

The Girls From Paramaribo – Berry Lipman, Joe Finette, Trine Von Stolzenau
[01:03']
Niels starts firing a gun before entering a car.
---
7.

Be Mine (ft. Naomi August) – Naomi Marie Agosto
---
8. Mystic Baiao – Gilles Cardoni, Tercio Borges Palmerston
---
9.

Tas Peur – Adrien Faure Carvallo, Jules Bressan
---
10. Good Friends – Xsn, Xst, Roses, Black
---
11.

Accords Magiques – Bertrand Commere, Jean-François Berger
---
Trailer Video
Watch the trailer
1.

Antigang : La Relève - Bande-annonce officielle (VF) | Disney+
Category: Action Movie Soundtracks, Adventure Movie Soundtracks, Crime Movie Soundtracks, Disney+, Drama Movie Soundtracks, Films, Hulu, Mystery Movie Soundtracks, Thriller Movie Soundtracks

What to Watch this Week |

Top TV Series |

Top Films |

TV Series Schedule |

In Theaters Now
The Squad: Home Run  Film information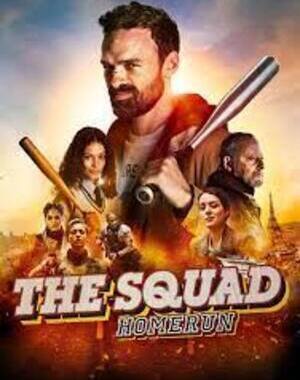 Movie Genre: Action, Adventure, Drama, Crime, Mystery, Thriller
Release date: August 25, 2023
Runtime: 1h 33m
Production: Fingerprint
Distributor: Hulu, Disney+
Director: Benjamin Rocher
Stars: Alban Lenoir, Cassiopée Mayance, Sofia Essaïdi




IMDB: The Squad: Home Run

Composers Archive
---