The soundtrack to Christmas At The Golden Dragon music, a 2022 movie
, tracklist, listen to all of the 4 full soundtrack songs. View all song names, who sings them, stream 4 additional tune playlists, scores, and credits used in the movie. Read 4 scene descriptions with timelines.
---
Song credits - additional film music - songs that are not included in the official soundtrack list, but are playing in the movie.
Listen to full soundtrack songs (where available)
---
1. O Christmas Tree – Christmas at the Golden Dragon Cast
[0:36']
Romy, her boyfriend, and his family are singing carols around the town to spread Christmas cheer.
---
2. We Wish You A Merry Christmas – Christmas Carols
[0:56']
Romy and Blake's family are out to dinner on Christmas Eve.
---
3.

Euphoria – Krissie Karlsson, Karl Karlsson & Nicki Karlsson
[1:17']
Miguel proposes to Sadie to move in together in LA.
---
4.

We Wish You a Merry Christmas (Alternative Version) – Stuart Roslyn & Matthew Foundling
[1:18']
Everyone is happily dancing at the Christmas party at the Golden Dragon.
---
Trailer Video

Watch the trailer for this film
Christmas At The Golden Dragon  Film information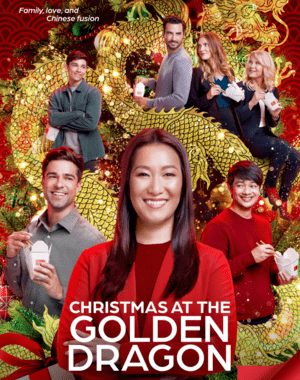 Movie Genre: Comedy, Drama
Release date (wide): 13 November 2022
Runtime: 1h 24m
Production: Timeless Pictures
Distributor: Basset Hound Distribution, Hallmark Channel
Director: David I. Strasser
Stars: Kara Wang, Osric Chau, Sara Canning




Composers Archive
---