The soundtrack to Death On The Nile, a 2022 movie music
, tracklist, listen to all of the 32 full soundtrack songs, play full 25 OST music & 1 trailer tracks. View all song names, who sings them, stream 6 additional tune playlists, scores, and credits used in the movie. Read 24 scene descriptions with timelines.
---
Song credits - additional film music - songs that are not included in the official soundtrack list, but are playing in the movie.
Listen to full soundtrack songs (where available)
---
1.

That's All – Sister Rosetta Tharpe
[8′]
Poirot is at the 'Live Music' Club, where people are dancing while Salome is singing this song.
---
2.

Up Above My Head – Sister Rosetta Tharpe
[10′]
Linnet Ridgeway arrives at the 'Live Music' Club. Poirot spots her, before he chooses the dessert. Linnet finds out her friend Jackie is engaged.
[40′]
They are all dancing and around them balloons are floating, while Salome Otterbourne is singing. Poirot watches from distance, without getting involved.
---
3.

Rock Me – Sister Rosetta Tharpe
[13′]
Linnet and Simon are dancing to this song, after she offered him a job. Poirot observes them from his table.
[23′]
People are dancing to this song at Simon and Linnet's wedding reception. Bouc gives details to Poirot about the people present at the party.
---
4.

Shout, Sister, Shout! – Sister Rosetta Tharpe
[1:05′]
They are embarking on the Karnakul ship on a cruise along the Nile River. The song continues as they each do their preferred activities. Linnet is unsettled, thinking about Jackie.
---
5.

Nobody's Fault But Mine – Sister Rosetta Tharpe
[53′]
After Jackie gets on the ship, they all have dinner.
---
6.

Stand By Me – The Staple Singers
[1:57′]
Ending song / Poirot goes to Salome's live music club to hear her sing. He has shaved his mustache, prepared to leave the memory of his wife behind.
---


Death On The Nile official OST album tracklist, original motion picture score.
Original release date: 11 February 2022
Label: Hollywood Records
Original music composed by Patrick Doyle
---
1. The Trenches
---
2. What About This?
[5′]
Poirot tries to hide his face from Katarina, but she assures him that her love for him goes beyond his injuries.
---
3. The Pyramids
[15′]
Poirot is admiring the Pyramids while drinking coffee and eating dessert. He meets Bouc who was flying a kite from one of the Pyramids.
[18′]
Poirot meets Euphemia, Bouc's mother, and he is invited to a wedding reception.
---
4. Bourgeois Nightmare
---
5. The Newly Weds
[20′]
Bouc introduces the newlyweds, Simon and Linnet. Everyone is celebrating their wedding.
---
6. She's Back
[25′]
Jackie comes uninvited to the wedding reception.
---
7. A Single Bullet
[30′]
Jackie reveals to Poirot her gun, threatening to use it for regaining the love of her life.
---
8. Immortal Longings
[32′]
Linnet dresses as Cleopatra and invites everyone to a cruise.
---
9. Abu Simbel
[44′]
The ship arrives in Abu Simbel. They all visit the temple.
---
10. Come with Me
[49′]
Simon asks Linnet to follow him. They start making out between the statues of the temple.
---
11. Suspects
12. One Last Cork
13. Goodnight Jacks
14. Alibi
15. Someone Is Dead
16. Inheritance
---
17. You Killed Them
[1:31′]
After Andrew implies the doctor killed Linnet and Louise, they get into a fight. Poirot tries to reenact the murder of Louise, in order to determine the killer.
---
18. Let Poirot Work
[1:33′]
Everybody returns to their cabins to let Poirot work on the case. Jackie asks him what his theory is about the deaths.
---
19. One Final Interview
[1:34′]
Poirot is questioning Bouc. He reveals his theory about Linnet's death.
---
20. Was Someone Hurt?
[1:40′]
After Bouc has been shot and Poirot chased the killer, everyone comes out of their cabins because they hear gunshots.
---
21. I Wasn't Thinking
[1:45′]
Poirot reveals that Andrew tried to kill Linnet and Simon at the temple.
---
22. I Needed Him
[1:52′]
After Jackie and Simon confess, they try to escape, threatening the others with a gun. Jackie shoots a bullet through both of them, and they die.
---
23. Perhaps
[1:56′]
Six years later, in London, Poirot goes to see Salome.
---
24. The Cost of Love
25. Death on the Nile
---
Listen to the full score songs playlist from Death On The Nile Soundtrack (2022) :



YouTube

Spotify
Trailer Video

Watch the trailer for this film
Trailer songs (full tracks)

Policy Of Truth - Depeche Mode
Category: Crime Movie Soundtracks, DIRECTV, Drama Movie Soundtracks, Mystery Movie Soundtracks

What to Watch this Week |

Top TV Series |

Top Films |

TV Series Schedule |

In Theaters Now
Death On The Nile  Film information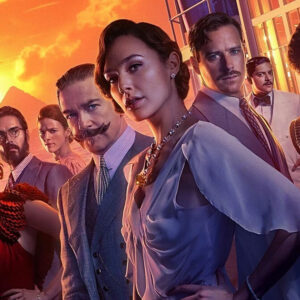 Movie Genre: Crime, Drama, Mystery
Release date (wide): 11 February 2022
Runtime: 2h 7m

---
IMDB: Death on the Nile
View more music by:

Composers Archive
---