The soundtrack to Napa Ever After music, a 2023 movie
, tracklist, listen to all of the 11 full soundtrack songs. View all song names, who sings them, stream 11 additional tune playlists, scores, and credits used in the movie. Read 11 scene descriptions with timelines.
---
Song credits - additional film music - songs that are not included in the official soundtrack list, but are playing in the movie.
Listen to full soundtrack songs (where available)
---
1.

How Can I Love You – Ahsley Thomas
Opening song.
---
2.

Good Lovin – Robyn Michelle Fletcher
[0:02']
Opening credits. Cassandra walks to the office.
---
3.

As Long As We Enjoy It – Inside Cuts
[0:09']
Cassandra drives to Napa Valley.
---
4. Know My Name – Inside Cuts
[0:19']
Cassandra arrives at the vinery and unloads her stuff from the trunk. Alec introduces himself.
---
5.

I Want You – Laurence Holcombe & Josefin Sjostrom
[0:40']
Cassandra takes her friends to a wine tasting.
---
6.

The Flow – AXS Music
[0:51']
Cassandra listens to music over her earphones while vacuuming.
---
7.

Pretending – David Lawrence & Daniel Rogers
[0:55']
Cassandra and Alec work together in the vineyard.
---
8.

Feel to Live – Nicolas Dagnall, Xan Blacq & Penguin Asylum
[1:03']
Cassandra meets up with her friends at a local bar. They discuss the newly launched business and her relationship with Alec.
---
9.

I'm So Into You – SWV
[1:04']
Cassandra and Alec get up and dance when this song starts playing at the bar.
---
10.

I'm On My Way – Stephane Huguenin
[1:19']
As soon as she finishes her conversation with her father, Cassandra runs outside and starts screaming with joy.
---
11. Together Side by Side – Jay OC
[1:21']
Cassandra and Alec get married at the vinery.
---
Trailer Video
Watch the trailer

Napa Ever After Trailer

Category: Hallmark Channel, Romance Movie Soundtracks

What to Watch this Week |

Top TV Series |

Top Films |

TV Series Schedule |

In Theaters Now
Napa Ever After  Film information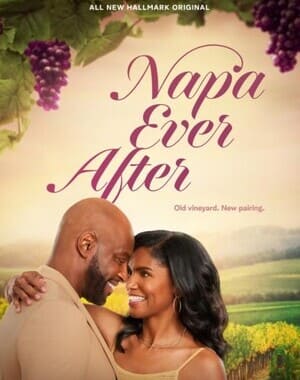 Movie Genre: Romance
Release date (wide): 26 August 2023
Runtime: 1h23m
Production: Hallmark Media
Distributor: Hallmark Channel
Director: Alfons Adetuyi
Stars: Cleo Patricia Annan, Denise Boutte, Darlene Cooke




IMDB: Napa Ever After

Composers Archive
---