The soundtrack to Harlan Coben's Shelter Season 1 music,
view and listen to all the songs from the 2023 TV series, listed by episode, with scene descriptions and timelines, entire tracklist from the Prime Video series.
---
Harlan Coben's Shelter Season 1 Episode 1
Harlan Coben's Shelter Season 1 Episode 2
Harlan Coben's Shelter Season 1 Episode 3
Harlan Coben's Shelter Season 1 Episode 4
Harlan Coben's Shelter Season 1 Episode 5
Harlan Coben's Shelter Season 1 Episode 6
Harlan Coben's Shelter Season 1 Episode 7
Harlan Coben's Shelter Season 1 Episode 8
Season 1 • Episode 1: 'Pilot' (S01E01)
18 August 2023
9 songs
1. Seven Days – APM Music
[0:01']
Brad is on Santa Monica beach and calls someone. He leaves a voice message and tells them he can't get into details, but he is back in the States.
---
2.

Gridlock – Butch Walker
[0:02']
Brad drives Kitty and Mickey through L.A. at night. As they sing along to this song, a truck t-bones them, and the car ignites.
[0:10'] Mickey looks around for the source of music. In a flashback, he remembers riding with his parents in the car when the accident occurred. He walks across the street and stares at an old mansion.
[0:20']
Mickey trudges down the street with his backpack over his shoulders. He turns around, quickens his pace, and emerges into the old house's backyard.
[0:44']
Mickey moves up the stairs and gets a look through the railing at the hallways and rooms beyond.
[0:48']
Mickey tells Arthur and Ema that this song plays on Bat Lady's record player, and it's the same song that he and his family used to listen to.
---
3.

Overthinking – Yeek
[0:12']
In a gymnasium, a man checks his phone at a podium. A blonde girl watches Mickey from across the gym.
[0:14']
A man takes a photo of Ashley and sends it to someone.
---
4.

Beach House – Carly Rae Jepsen
[0:16']
On the football field, Ashley stands with some cheerleaders and watches them awkwardly as Rachel teaches her the moves.
---
5.

Going Off – P-Lo
[0:17]
Troy passes the ball to Mickey. He first does not want to play, but then he joins them.
---
6. Dreamin' (A Sunday Afternoon) – Best People
[0:24']
Mickey is in a diner. He adjusts the paper mats, sips from a coffee mug, and looks around.
---
7.

I Don't Want to I Will – Rockin' Ramrods
[0:24']
Mickey scrolls through his conversation with Ashley that ended with him texting her, "I'm here."
---
8.

Sweet Winds – Alzo
[0:24']
Mickey flips through the songs of a tabletop jukebox. He texts Ashley and asks her if all is good.
---
9.

Save Your Soul – Lexxi Saal
[0:48']
Mickey and Arthur run through the woods. They run down a street filled with police cars and an ambulance. A body is being carried out of the house, he tries to breaks free from their hold, but police officers pin him to the ground.
---
Season 1 • Episode 2: 'Catch Me If You Can' (S01E02)
18 August 2023
7 songs
1.

Bad Love – Dehd
[0:11']
A girl notices Ema's drawing. She tells Ema it is sick. Ema shoots the girl a stunned look and bashfully turns away.
---
2.

I Wanna Die But I Can't (Cuz I Gotta Keep Living) – Pronoun
[0:15']
Mickey sits on the edge of his bed and scrolls through photos of him and Ashley.
---
3.

Start Together – Sleater-Kinney
[0:15']
Shira opens a storage box. She picks up a dented basketball with the initials S.B.
---
4.

First Aid – Gus Daperton
[0:21']
Ema salutes Mickey and heads for the window. He asks if she wants him to walk her home, but she does not want. She climbs out and goes home.
---
5.

Cross the Sea – Alex G
[0:28']
Mickey bends down to smile at his mother through the car window and she blows him a kiss. She fights back tears.
---
6. Ye Kamal Ol – APM Music
[0:31']
The friends enter a tattoo studio. Ema introduces Mickey and Arthur to Angel. As they shake hands, Angel tells Mickey he feels he is a protector.
---
7.

Dry – Traams
[0:42']
End credits.
---
Season 1 • Episode 3: 'The Dirt Locker' (S01E03)
18 August 2023
6 songs
1.

Instinct that I Wanna Know – Jade Imagine
[0:17']
Mickey sits alone at a desk and reviews hallway footage on a monitor. He sees himself leaning against the wall as he talks to Ashley. They both smile at each other.
---
2.

When You Go (That's When I'll Know) – The Altons
[0:19']
Mickey arrives home from school, and various people with glasses of wine catch him off guard. He notices a table full of food and sees his grandparents. They greet Mickey and hug him.
---
3.

Forgetter – Mr.Little Jeans
[0:21']
Rachel and Mickey head downstairs. Ema searches through hallway footage, stops, and rewinds. She watches herself walk down the hall and sees Whitney check her out as she passes.
---
4.

Love Is The Way – Thee Sacred Souls
[0:22']
At Mickey's house, people socialize. Rachel bids the Taylors goodbye, and Troy follows her outside. He pulls her in for a hug, and she closes her eyes as she nuzzles against him.
---
5.

Sleep Tight – Holly Humberstone
[0:26']
Shira grabs a bottle of wine and leaves. Ellen shrugs and then sips her drink. Hannah joins Shira on the roof of the house.
---
6.

All Being Fine – King Hannah
[0:36']
Shira picks up three empty glasses from the counter. Hannah walks in. Shira asks Hannah if she forgot something. Hannah leans in and kisses Shira on the lips.
---
Season 1 • Episode 4: 'Phantom Threads' (S01E04)
25 August 2023
5 songs
1.

Until You Find Out – Ned's Atomic Dustbin
[00:02']
Shira feverishly sprints in place in her bedroom. She runs to a different spot on the carpet, and then continues. She thinks about Hannah kissing her against the refrigerator.
---
2.

Honey – Plastic Picnic
[00:08']
Shira sees the Taylors and chokes on a sausage. Mickey pats her on the back as Hannah smiles at her.
---
3.

Hold On – 14 Iced Bears
[00:11']
At the prom, Shira comforts Ken as he vomits into a trashcan. Hannah asks Shira why she is dating Ken and she replies because he is hot.
---
4.

Got You (Where I Want You) – The Flys
[00:11']
Hannah stands up, bows, and asks Shira if she wants to dance. They walk onto the dancefloor and wrap their arms around each other, then lean their heads on each other's shoulders as they sway to the music. Hannah tells Shira she will miss her very much the next year.
---
5.

Music of the Night – The Phantom of The Opera
[00:16']
Buck auditions in the auditorium. Spoon informs Ema that Marisa Zamboni decided to do the color guard instead of the musical and that they rehearsed the song as a duet and not a solo. Ema tells him it will be okay.
[00:18']
Spoon performs the song on the stage. Buck and Troy mock him. Spoon is very nervous. Ema starts singing along as she walks to him on stage. They are all in awe of her beautiful voice.
---
Season 1 • Episode 5: 'See Me Feel Me Touch Me Heal Me' (S01E05)
1 September 2023
2 songs
1.

When I'm Small – Phantogram
[00:19']
Mickey and Spoon follow Ema through the woods. When they get close to this house, she discovers that she is being followed by the two.
---
2.

Phoebe Bridgers – Sidelines
[00:36']
Whitney confesses to Emma that she has a crush on her. Emma is surprised, telling Whitney that she also likes her.
---
Season 1 • Episode 6: 'Candy's Room' (S01E06)
8 September 2023
5 songs
1.

Waterslide, Diving Board, Ladder to the Sky – Porridge Radio
[00:13']
Ema meets Whitney in the school hall. She tells Whistney she does not want to see her again.
---
2.

Window – Dehd
[00:27']
Ema lies in bed, and her phone is by her face. Spoon calls her. She asks him about the memorial, and he says it was sad. He then inquires if Ema heard from Whitney. Ema replies that she has six missed calls from her.
---
3.

Promises – Ural Thomas & the Pain
[00:29']
Hannah and Shira are in the kitchen. The former tells Shira she talked to Rob and set up a call the following day for the exhumation.
---
4.

Hounds – Puma Blue
[00:31']
A girl grabs Mickey's arm and pulls him into the club's basement. He asks her who she is; she tells him her name is Candy. She leads him to a lounge and informs him that Ashley is in the dungeon, the place where the girls are taken to be sold to wealthy men.
---
5.

Clockwork – Lime Garden
[00:41']
On the beach, Bobby walks to the shore, and two men drag Mickey behind. They drop him, and Buddy points a pistol at him. Mickey throws sand in Buddy's face and dives into the water as the three men fire. The scene shifts to the end credits.
---
Season 1 • Episode 7: 'Sweet Dreams Are Made of This' (S01E07)
15 September 2023
4 songs
1.

O-Zone – Mike Trim, Sebastian David
[00:12']
A green Lamborghini parks on the side of the road, and Ema climbs out as Spoon and Rachel approach.
[00:27']
Rachel and Ema ask Buddy if he is a big Angelica fan, and he tells them that as a kid, he had all her bikini pics on his ceiling.
---
2.

Noel, Jonah and Me – The Spinanes
[00:22']
Candy sneaks up and opens the back of the car as the bouncer climbs in the driver's seat. She tells Spoon she's got his friends inside.
---
3.

Plexus Machine – 99 Tales
[00:25']
Spoon asks Candy if that is her real name, and she replies it is not, but he should keep calling her that.
---
4.

Gridlock – Butch Walker
[00:46']
Mickey runs toward the house and kicks in the door. He starts to scream "You killed him". He goes upstairs and enters the room where he sees the Bat Lady. She tells him she did not kill his father.
---
Season 1 • Episode 8: 'Found' (S01E08)
22 September 2023
10 songs
1.

Ready or Not – Hulvey
[00:06']
Rachel walks into a house; inside, her school friends are partying. Rachel asks Whitney where Troy is. Whitney points his way.
---
2.

Bye Bye – Haiku Hands & Ribongia
[00:08']
Troy tells Rachel that their relationship has ended as he is inebriated at the party.
---
3.

Drop – Connor Price & Zensery
[00:20']
This song plays in the scene before the basketball game.
---
4.

Yin and Yang – Taz Conley
[00:21']
The basketball team gathers in a circle in the locker room to pump each other up. They jog to the court. Spoon and his colleague comment on the game.
---
5.

Hollaback Girl – Gwen Stefani
[00:25']
Arthur introduces the Yasselton Camel cheer squad, which is led by captain Rachel Caldwell.
---
6.

Faster Please – seeyousoon
[00:29']
This song plays in the scene during the high school basketball game.
---
7.

Eggshells – Dehd
[00:33']
This song is heard when Arthur gets a tattoo.
---
8.

Five Month Skin – Beck Pete
[00:39']
This song plays after the conversation between Mickey and the Bat Lady.
---
9.

90's American Superstar – Wallice
[00:41']
When this song comes on, Mickey, Rachelle, Ema, and Arthur are all partying together.
---
10.

I Just Want to Hide My Face – Ekkstacy
[00:41']
Rachel makes a comment about Shira's moving her hips to music. She then asks Mickey where he was during the game earlier that day. He replies that he will tell her the following day. He mentions that he just wants to forget about everything and enjoy time with his friends.
---
Trailer Video
Watch the trailer
1.

Harlan Coben's Shelter Season 1 Trailer

Category: Crime TV Series, Drama TV Series, Mystery TV Series, Prime Video, TV Series

What to Watch this Week |

Top TV Series |

Top Films |

TV Series Schedule |

In Theaters Now
Harlan Coben's Shelter Season 1  TV information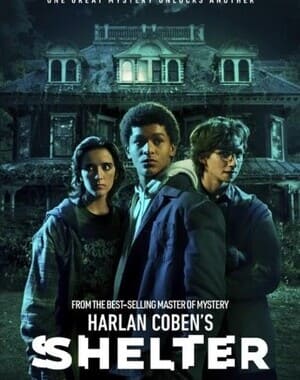 Production: MGM International TV Productions, Amazon Studios, MGM Television
Distributor: Amazon Prime Video
Directors: Edward Ornelas, Christina Choe, Deborah Kampmeier
Actors: Jaden Michael, Constance Zimmer, Adrian Greensmith




IMDB: Harlan Coben's Shelter

Composers Archive
---