The soundtrack to The Caine Mutiny Court-Martial music, a 2023 Paramount+ movie
, tracklist, listen to all of the 3 full soundtrack songs, play trailer tracks. View all song names, who sings them, stream 3 additional tune playlists, scores, and credits used in the movie. Read 2 scene descriptions with timelines.
---
Song credits - additional film music - songs that are not included in the official soundtrack list, but are playing in the movie.
Listen to full soundtrack songs (where available)
---
1.

Lowdown – Boz Scaggs & David Paich
[01:36']
Lieutenant Barney's co-workers throw him a surprise party at the end of the trial.
[01:43']
End credits song.
---
2. Maproom – Laurie Johnson
---
3. Snare Drum – Marches – Gary George Kettel
---
Trailer Video
Watch the trailer
1.

The Caine Mutiny Court-Martial Official Trailer | SHOWTIME

Category: Drama Movie Soundtracks, Paramount+, SkyShowtime, War Movie Soundtracks

What to Watch this Week |

Top TV Series |

Top Films |

TV Series Schedule |

In Theaters Now
The Caine Mutiny CourtMartial Film information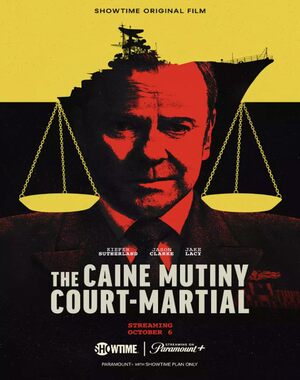 Movie Genre: Drama, War
Release date (wide): 6 October 2023
Runtime: 1h 48m
Production: Paramount Global Content Distribution
Distributor: Showtime Networks
Director: William Friedkin
Actors: Kiefer Sutherland, Jason Clarke, Jake Lacy




IMDB: The Caine Mutiny Court-Martial

Composers Archive
---