The soundtrack to Untold: Hall Of Shame music, a 2023 Netflix movie
, tracklist, listen to all of the 4 full soundtrack songs. View all song names, who sings them, stream 4 additional tune playlists, scores, and credits used in the movie. Read 4 scene descriptions with timelines.
---
Check out the new music for Untold: Swamp Kings Season 1 Soundtrack
---
Song credits - additional film music - songs that are not included in the official soundtrack list, but are playing in the movie.
Listen to full soundtrack songs (where available)
---
1.

Your Sweet Love – Lee Hazlewood
[0:03']
Opening credits song.
---
2.

Column of Sadness / Wheel of Pain – Basil Poledouris
[0:09']
Montgomery recalls watching 'Conan the Barbarian' as a child. A film montage is shown.
---
3.

What Is Hip? – Tower of Power
[0:26']
Conte says most people know him as a bass player because he played with many groups that had albums.
---
4.

The Gold Cup (feat. Rod Lowell) – Al Hazan
[1:13']
The song plays during the montage shown in the movie's final scene.
---
Trailer Video
Watch the trailer
1.

UNTOLD: Hall of Shame Trailer

Category: Crime Movie Soundtracks, Documentary Movie Soundtracks, Netflix, Sport Movie Soundtracks

What to Watch this Week |

Top TV Series |

Top Films |

TV Series Schedule |

In Theaters Now
Untold: Hall Of Shame  Film information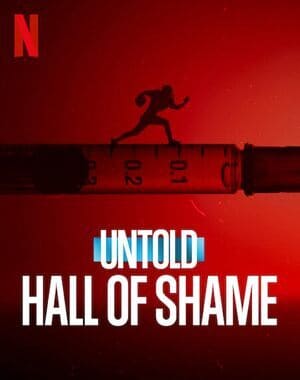 Movie Genre: Documentary, Crime, Sport
Release date (wide): 15 August 2023
Runtime: 1h 15m
Production: Propagate, Stardust Frames Productions
Distributor: Netflix
Director: Bryan Storkel
Star: Victor Conte




IMDB: Untold: Hall Of Shame

Composers Archive
---