The soundtrack to Til Death Do Us Part music, a 2023 movie
, tracklist, listen to all of the 5 full soundtrack songs. View all song names, who sings them, stream 5 additional tune playlists, scores, and credits used in the movie. Read 5 scene descriptions with timelines.
---
Song credits - additional film music - songs that are not included in the official soundtrack list, but are playing in the movie.
Listen to full soundtrack songs (where available)
---
1.

I Know A Place – Grace Mesa
[0:05']
The newly married couple is dancing on their honeymoon.
---
2.

Devoted to You – Oxbow Echo
[0:15′]
After arriving at the house, the bride pours herself a drink and starts dancing on her own.
---
3.

The Love Game – Troy Kline
[0:43']
The best man is pouring a drink for him and the rest of the groomsmen.
---
4.

Rockin' Robin – Nutbag
[01:03']
The bride is struggling to fight all the groomsmen and escape.
---
5.

Never Let Me Go – Zeeba
[01:35']
The former couple has a last dance before parting ways.
---
Trailer Video
Watch the trailer
1.

Til Death Do Us Part | Official Trailer

Category: Action Movie Soundtracks, Thriller Movie Soundtracks

What to Watch this Week |

Top TV Series |

Top Films |

TV Series Schedule |

In Theaters Now
Til Death Do Us Part  Film information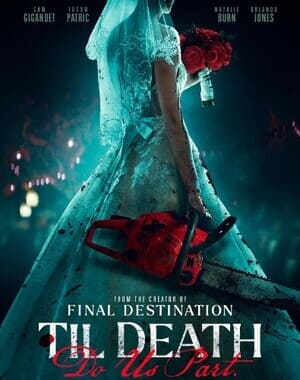 Movie Genre: Action, Thriller
Release date (wide): 3 August 2023
Runtime: 1h 49m
Production: Born to Burn Films, BondIt Media Capital, Buffalo 8 Productions
Distributor: Global Film , Kinomania, Cinedigm Entertainment Group
Director: Timothy Woodward Jr.
Actors: Cam Gigandet, Jason Patric, Natalie Burn




IMDB: Til Death Do Us Part

Composers Archive
---